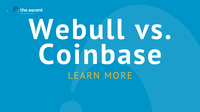 Webull vs. Coinbase: Cryptos available
In terms of cryptocurrency selection, Coinbase is far ahead of Webull. There are over 90 cryptos available on Coinbase compared to 11 on Webull.
To its credit, Webull does have several of the biggest cryptocurrencies, including Bitcoin, Ethereum (ETH), and Cardano (ADA). But it's lacking quite a few notable coins. Here are some of the major cryptos that you can get on Coinbase, but not Webull:
Solana (SOL)
Polkadot (DOT)
Uniswap (UNI)
Algorand (ALGO)
Internet Computer (ICP)
Webull's selection doesn't include any stablecoins, either. This type of cryptocurrency, which is pegged to an asset like the U.S. dollar, is a popular choice for investors who want to lend a crypto with a stable price and earn interest on it. While you can buy stablecoins, such as Tether (USDT) and USD Coin (USDC), on Coinbase, they're absent from Webull's lineup.
Webull vs. Coinbase: Wallets
Webull doesn't offer any sort of crypto wallet. Even though it lets you buy and sell crypto, you can't transfer it anywhere. This is a big drawback, because you're not in full control of the crypto that you buy. If Webull froze your account for any reason, you wouldn't be able to access your holdings.
Coinbase offers a custodial and a non-custodial crypto wallet. Both types of wallets can send and receive crypto from external wallets. The difference is that a custodial wallet is controlled by the exchange — in this case, Coinbase. If you buy crypto and keep it on Coinbase, then it will be in a custodial wallet.
A non-custodial wallet is controlled by the user. Coinbase offers this with Coinbase Wallet, a free app anyone can download. If you move your crypto to Coinbase Wallet, then you're in complete control of it.
Webull vs. Coinbase: Security
Although Webull and Coinbase are both secure platforms, Coinbase is the safer place to purchase crypto because it provides insurance and full control of your coins.
Webull uses a company called Apex Crypto for crypto trading and custody. When you buy a cryptocurrency on Webull, Apex Crypto executes the transaction and stores those crypto funds. While Apex Crypto presumably provides safe crypto storage, there are a couple things to be aware of:
It doesn't have insurance on cryptocurrency holdings.
It mentions in its risk disclosure that it may not have sufficient financial coverage to repay cryptocurrency losses in the event of technical difficulties.
Coinbase handles its own crypto trading and storage. It reports that 98% of customer crypto funds are in cold storage, meaning they're kept offline. Since cold storage devices aren't connected to the internet, they're widely considered the safest way to store crypto.
For the remaining crypto funds stored in hot wallets (online storage), Coinbase has insurance. This combination of cold storage and insurance provides an excellent level of protection and makes Coinbase one of the most secure cryptocurrency exchanges.
Another disadvantage of Webull from a security perspective is the lack of control over your crypto. With Coinbase, you're free to transfer your crypto to an external wallet with private keys that only you know.
That's not an option with Webull. If there was ever an issue with the platform or with your Webull account, you could lose access to your crypto.
Final take
If you're serious about investing in crypto, Coinbase is the better option over Webull. It offers a much larger selection, so you'll be able to buy bigger and smaller coins. You can feel confident that your crypto is safe and insured on Coinbase. The exchange also has low fees if you use Coinbase Pro.
Most importantly, Coinbase doesn't restrict what you can do with your crypto. Once it's in your possession, you can move it to a wallet, transfer it to a different exchange, or send it to someone else.
Webull offers more types of investing, and it has an excellent mobile platform. If you're looking for stock trading apps that also let you add crypto to your portfolio, then Webull is worth checking out. Just keep in mind that it doesn't have all the features you'd get from a full-fledged crypto exchange.

>