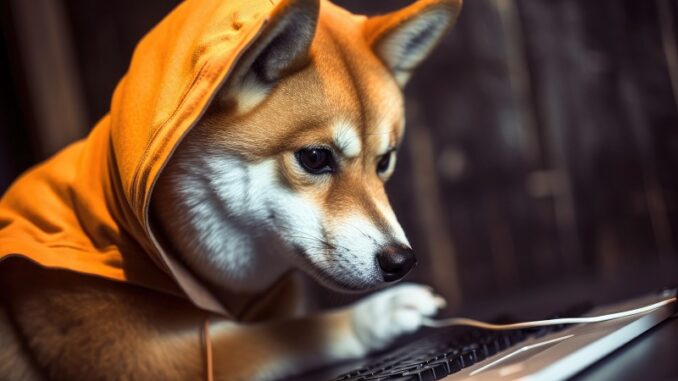 American stocks continued their sell-off this week as risks rose.

Cryptocurrencies have proven resilient despite the challenging environment.

Shiba Memu token sale has accelerated recently. 
It has been a sea of red in the financial market this week as the fear and greed index plunged to the lowest level in months and the US dollar index (DXY) surged to $106.7. The closely watched iShares 20 Plus Year Treasury Bond ETF (TLT) has plunged to the lowest point since 2014. It has fallen by over 17% from the highest point this year.
Meanwhile, the small-cap Russell 2000 index, has moved into a correction zone by plunging by over 12% from its peak this year. Other assets like commodities have also retreated as investors remain concerned about the next action by the Federal Reserve. The Fed has committed to hike interest rates to 5.7%, raising concerns about defaults and a recession. 
Cryptocurrency prices have remained quite resilient in the past few weeks. Bitcoin has remained above $26,000 while the total market cap of all digital coins has remained above $1 trillion. Other coins like Chainlink, Tron, and Terra Luna have been relatively resilient in this period.
Shiba Memu token sale continues
Meanwhile, Shiba Memu's token sale has continued firing on all cylinders. The developers have raised over $3.36 million in the past few weeks, making it one of the most successful token sales this year. 
Shiba Memu's sale gained steam this week after Amazon made a $4 billion investment in Anthropic, a new company in the generative AI industry. The company has launched Claude, a new platform similar to ChatGPT that aims to become a leading player in generative AI. It can answer long and complex questions with ease.
Amazon's investment in Anthropic is important for Shiba Memu since the project has AI features. For starters, Shiba Memu aims to become a leading player in the meme coin and AI space. As a meme coin, the project seeks to become a viable alternative to Shiba Inu, one of the biggest meme coins in the world.
As part of its strategy to create utility, Shiba Memu will incorporate artificial intelligence features in its ecosystem. Initially, these features will be about automated marketing. It will use technologies like neural language processing and regression modes in all this. You can buy Shiba Memu token here.
Is Shiba Memu a good investment?
Shiba Memu has proven quite resilient in the past few weeks as concerns in the crypto and stock market have continued. It has continued raising huge sums of money from global investors. Most of these early adapters hope that their little investment will make them Shiba Memu millionaires.
Recently, we saw a few people become Pepe millionaires. We have also seen Shiba Inu and Bonk millionaires in the past few years. Therefore, because of Shiba Memu's popularity in the presale, there is a likelihood that it will also create many wealthy people.
However, like all assets, especially cryptocurrencies, there are always risks. Recently, we have seen many hot cryptocurrencies like Zilliqa and Hedera Hashgraph plunge. Therefore, you should have proper risk management strategy and invest funds you are comfortable to lose.

>