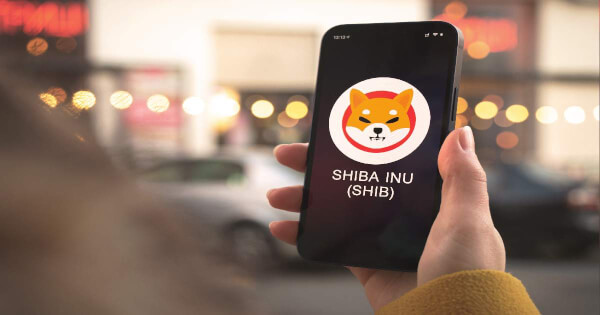 Key Takeaways
Shibarium, Shiba Inu's Layer 2 network, crosses 1 million wallet addresses.
Over 700,000 transactions have been completed on the network.
Despite rapid adoption, the SHIB token faces potential price volatility.
Shiba Inu's Layer 2 network, Shibarium, has crossed a significant threshold, boasting over 1 million wallet addresses and completing more than 770,000 transactions as of September 2, 2023. The data comes from Shibariumscan, the Shibarium network's official block explorer. The milestone follows an announcement by Shiba Inu's lead developer, Shytoshi Kusama, confirming that the Shibarium mainnet and its cross-chain bridges became fully operational on August 28, 2023.
Shibarium's Strategy with Scalability Concern
Shibarium, a fork of Polygon, initially grappled with scalability issues. The network's fail-safe mode was activated due to an unprecedented surge in user activity shortly after its launch. "Nearly half of the platform's monthly allocation of 400 million compute units was consumed within just 30 minutes of its launch," according to internal data. However, collaborations with teams like Alchemy led to a 1500% scaling of operations, stabilizing the network's ability to handle its growing user base.
Shytoshi Kusama stated on August 28 that the Shibarium mainnet and its cross-chain bridges are "functioning smoothly." Users can now complete withdrawals of various assets, including ETH, Shib, Leash, and WEth, within a time frame of 45 minutes to 3 hours. However, withdrawals involving Bone, the network's native token, may take up to 7 days.
The Layer 2 network aims to alleviate congestion and high fees on the Ethereum mainnet. Shibarium's rapid adoption is in line with the growing trend of Layer 2 solutions in the crypto space, which offer scalability and lower transaction costs. These features are particularly beneficial for decentralized finance (DeFi) applications and non-fungible tokens (NFTs).
4-Hour Chart: 99-Period Moving Average as a Strong Resistance
While this suggests a promising future for the network, the $SHIB token is grappling with its own set of challenges, particularly in terms of price stability.
In the shorter time frame of the 4-hour chart, the 99-period Moving Average stands out as a formidable resistance line for $SHIB. This technical indicator has consistently acted as a ceiling for the token's price, making it a critical level to watch for traders. The overall market environment appears permissive, indicating that there's a likelihood for the price to decline further. Investors should exercise caution as the asset nears this resistance, as a failure to break above could signal a bearish trend.
Daily Chart: Upward Trending Line Offers Robust Support
On the flip side, the daily chart offers a more optimistic outlook. An upward trending line, currently pegged at a price of 0.0000077, serves as a robust support level for $SHIB. This line has historically acted as a floor for the token's price, providing a safety net during market downturns. It is crucial for investors to monitor this level closely; a break below it could trigger a significant price drop, potentially leading to a deep plunge in $SHIB's market value.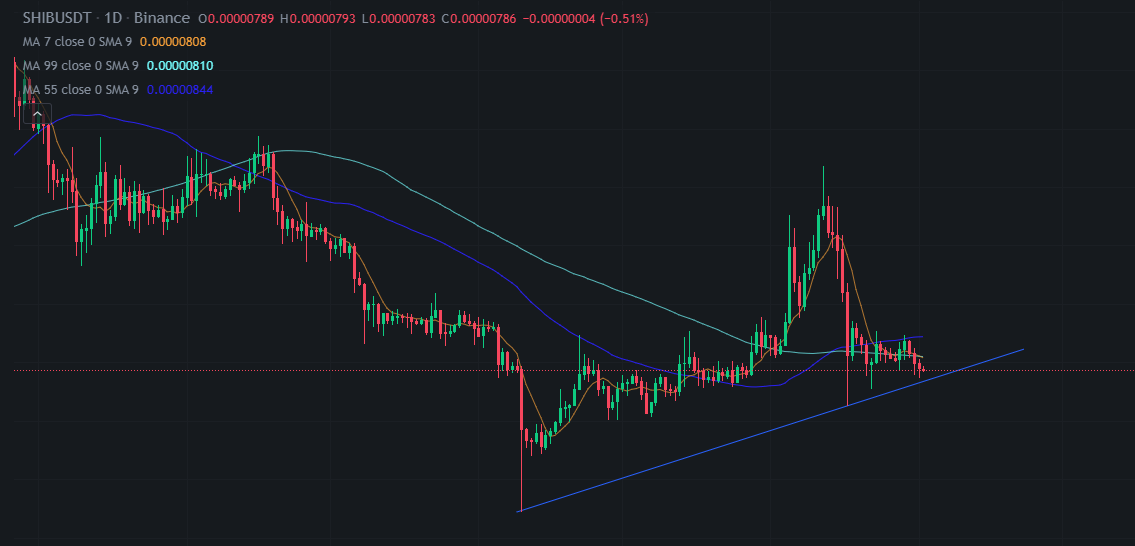 Conclusion
The $SHIB token is currently navigating a complex technical landscape, caught between a strong resistance level on the 4-hour chart and a crucial support level on the daily chart. As Shibarium continues to grow, the token's price dynamics remain uncertain. Both the 99-period Moving Average and the upward trending line at 0.0000077 are key technical levels that could dictate the token's future price action. Investors and traders should keep a close eye on these indicators to make informed decisions.
TA with support from "Trade Wise".
Image source: Shutterstock

>