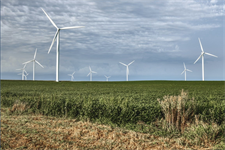 Russian government ministries are considering whether to issue green certificates for wind farm output.
The energy and economy ministries hope that the certificates, which would then be purchased by industrial consumers in Russia, would be accepted by the EU and result in a reduction in carbon taxes on goods imported from Russia.
At this stage, it remains unclear what the mechanism would eventually look like, but the ministries are expected to make a decision on this by the end of the year.
However, both wind power generators and industrial electricity consumers have already voiced opposition to the plans, the former complaining about additional obligations and the latter fearing price increases.
Under the proposals, the Russian energy regulator would issue green certificates that confirm the electricity generated was produced by a low-carbon power plant. One certificate would be produced for one megawatt hour of electricity.
Power producers would need to validate their facility to take part in the scheme and register for certificates issued through state-owned Sberbank's blockchain platform. It is not clear whether they would incur a cost for doing so.
Representatives of the energy and economy ministries have also not clarified how much output wind farm operators will need to sell through the green certificate system. The remainder of the output not covered by green certificates would be sold through other means.
Wind industry players have voiced opposition to the proposals.
Finnish state-owned energy company Fortum told Russian business title Kommersant that this would impose additional obligations on the company. A spokesman said that all obligations of generators regarding electricity and capacity of wind power plants are already fixed in power supply contracts, and these do not include obligations to issue certificates.
The Russian Energy Consumers Association, which represents industrial consumers, has also criticised the mandatory issuance of certificates, arguing they would limit competition for ways to confirm low-carbon content and therefore cause unreasonable price increases, complicating exports and the development of the economy as a whole.
Electricity purchasers also want to buy green certificates through standard power purchase contracts. But wind farm operators and the two government ministries are opposed to this idea as they argue it would not adequately incentivise the purchase of green electricity.

>