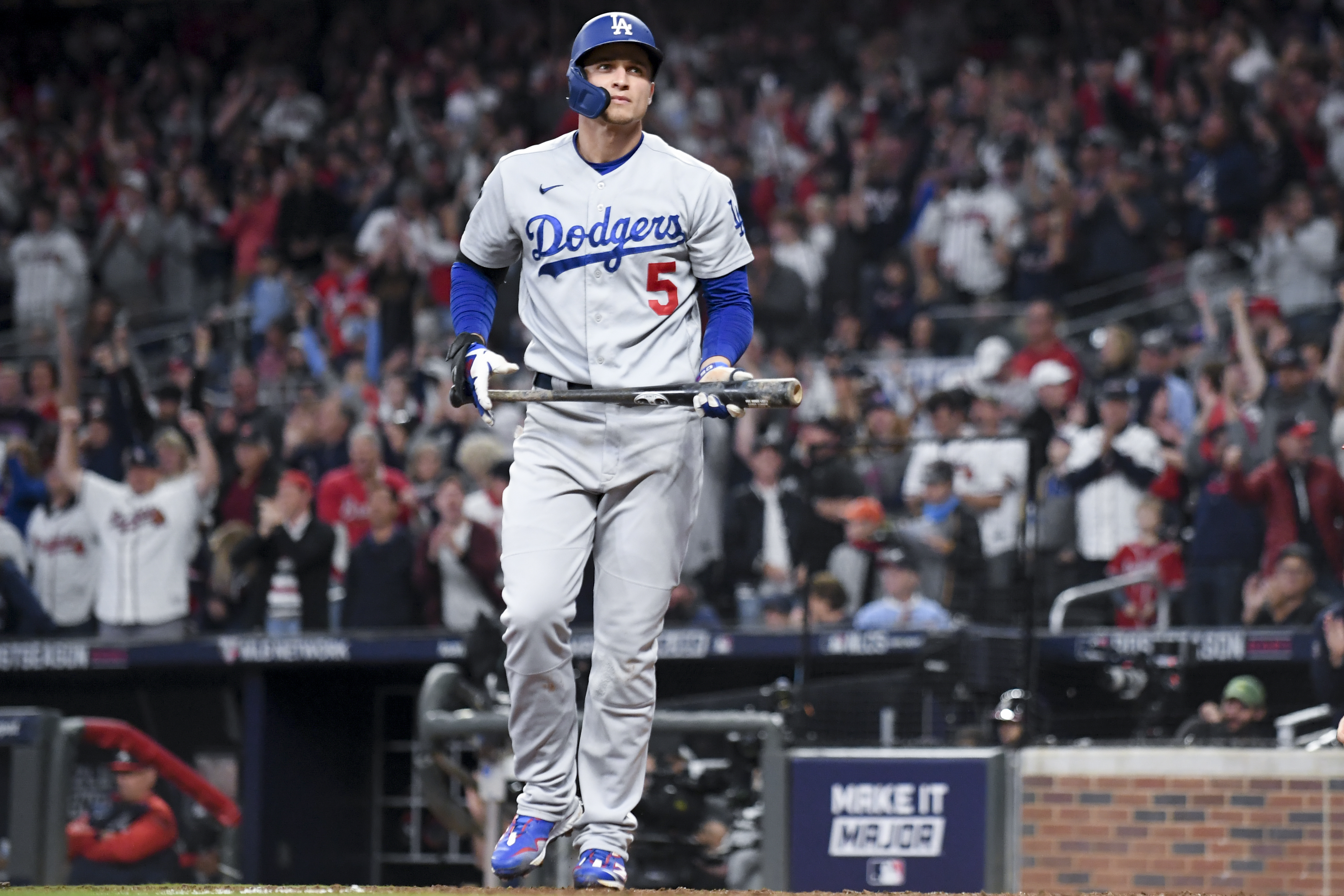 Wally Skalij / Los Angeles Times via Getty Images
The Texas Rangers have thrown their hat into the ring of teams that mean to contend in the near future, and all it cost them was $560 million.
That's for the four players they've signed over the last few days, with right fielder Kole Calhoun on the low end at one year and $5.2 million and shortstop Corey Seager on the high end at 10 years and $325 million. In the middle are right-hander Jon Gray at four years, $56 million and second baseman Marcus Semien at seven years, $175 million.
When you do a thing like this, you've earned the right to make tweets like these:
Simply working with the average salaries of these deals, the Rangers have added about $77 million to their payroll for 2022. And they might not be done yet. As Evan Grant of the Dallas Morning News reported, Texas could have a $100 million budget for new salaries this winter. 
And yet, there is that nagging sense of doubt. Because while the Rangers are undeniably improved, what they've improved is a 102-loss team that's stuck in an American League West division headlined by the reigning league champions and at least two other contenders.
---
The Rangers Definitely Aren't Worse
Even relative to their 22-38 slide through the shortened 2020 season, there's really no way to sugarcoat just how awful the Rangers were in 2021.
By way of an AL-low .294 OBP, the only thing their offense was good at was making outs. Their pitchers, meanwhile, ranked second from the bottom in strikeouts and third from the bottom in home runs. Hence how they allowed 190 more runs than they scored.
As if all this wasn't enough to make Rangers fans go "ugh" on a daily basis, the team also parted ways with stars like Joey Gallo, Kyle Gibson and Ian Kennedy at the trade deadline. Yet its farm system was still outside MLB.com's top 10 come August, and the lack of further stars to trade left virtually no hope for further growth in that department in the winter.
To their credit, though, the Rangers started to get creative even before owners Ray Davis and Bob Simpson opened the organization's checkbook.
In addition to mixing up their front office in September, the Rangers also made a low-key excellent hire earlier in November when they brought in Donnie Ecker to be their bench coach and offense coordinator under manager Chris Woodward. Ecker previously had a hand in turning the San Francisco Giants offense into a home run machine in 2021.
The Rangers nonetheless had to give Ecker something to work with, so good on them for forming perhaps the best offensive middle infield in baseball.

Cole Burston/Getty Images
For his part, Semien has been an MVP finalist in two of the last three years and is coming off setting a record for a primary second baseman with a 45-homer season for the Toronto Blue Jays. For his, Seager is one of the most gifted hitters in the sport and, in a related story, one of just two shortstops to top a 125 OPS+ four times since 2016.
There's nowhere on the diamond that Seager and Semien wouldn't be upgrades over what the Rangers had in 2021, but they're especially welcome on the middle of the infield. To wit, Texas got sub-.700 OPSes and 24 total homers from second base and shortstop this year.
Calhoun will be a less exciting addition if he can't move on from the .670 OPS he had in 2021. The fact that the Rangers wanted him on a major league deal, though, could indicate that they (and specifically Ecker) see a way to get him back to the .864 OPS he posted in 2020.
On the other side of the ball, the task before Gray is to help lift a starting rotation that ranked 28th with minus-0.1 rWAR in 2021. He can do that simply by living up to his generally above-average track record, as he pitched to a 107 ERA+ in seven years with the Colorado Rockies.
So, there you have it. Four players, four much-needed signs of hope for 2022 and beyond.
---
But Where Is the Rangers' Path to Contention?
Trouble is, the Rangers are still looking up at some tough competition within the AL West.
Of the four teams that finished ahead of them this year, only one is vulnerable. That's the Oakland Athletics, who've reached one of those points when their payroll has gotten too big for comfort and therefore must be pared down. According to Ken Rosenthal of The Athletic, none of Matt Olson, Matt Chapman or any other A is untouchable.
On the other hand, the Houston Astros are clearly uninterested in vacating their throne as the de facto kings of the division.
Mere weeks removed from playing in their third World Series in five years, the Astros have already re-signed Justin Verlander and also added relief ace Hector Neris. Next, they apparently mean to find an appropriate replacement for Carlos Correa at shortstop:
Far from content to sit on this year's 90-win roster, the Seattle Mariners also mean to move forward. They scored a huge hit in signing AL Cy Young Award winner Robbie Ray, though their trade for All-Star infielder Adam Frazier is not one to be overlooked.
And as tempting as it may be, don't sleep on the Los Angeles Angels.
Though AL MVP Shohei Ohtani deserves the lion's share of the credit, it's no small feat that the Angels lost only 85 games in 2021 even though Mike Trout and Anthony Rendon were non-factors due to injuries. If they and newcomer ace Noah Syndergaard stay healthy, the Angels will have a good chance of snapping a string of six straight losing seasons in 2022.
Put simply, there is no power vacuum in the AL West right now. Which, of course, makes it odd that the Rangers are acting as if there is.
---
The Rangers Need More
Though it's way too early to have any real sense of how the five teams in the AL West stack up for 2022, FanGraphs' WAR projections allow for a general sense:
Astros: 45.6
Angels: 39.1
Mariners: 33.5
Athletics: 32.9
Rangers: 32.5
Never mind from the outhouse to the penthouse. If this is any indication, the Rangers have gone from the outhouse to…a slightly bigger outhouse?
There are avenues from which to quibble with this prognostication. For example, it's hard to account for the possible impact that Ecker will have on Adolis Garcia, Nathaniel Lowe and other incumbent bats. There's also the possibility of ample contributions from MLB-ready prospects like infielders Josh Jung and Ezequiel Duran and right-hander Cole Winn.
However, none of those prospects are what you'd call blue-chip talents. And of the players the Rangers had on their major league roster before their four new additions, only Garcia came out of 2021 looking anything like a star. And since he only had a .286 OBP to go with his 31 homers this year, giving him that much credit is a kindness.
So this is not, say, the Chicago Cubs signing Jon Lester and Jason Heyward or the Blue Jays signing Semien and George Springer. Those were cases of teams spending big bucks to plug veterans into what gaps still remained in talented, homegrown rosters. The Rangers don't have one of those.
Not yet, anyway. Perhaps they will in a few years' time when Seager, Semien and Gray will still be around. But if their true purpose is to make a play for 2023 or 2024, they could have A) not committed $231 million to two guys who are already over 30 or B) just waited.
What the Rangers have done is still worth clapping for, if for no other reason than they're not tanking even though they had that option. But if they want to silence doubts about their readiness to contend, they'll have to spend even more than $560 million.
---
Stats courtesy of Baseball Reference and FanGraphs.

>