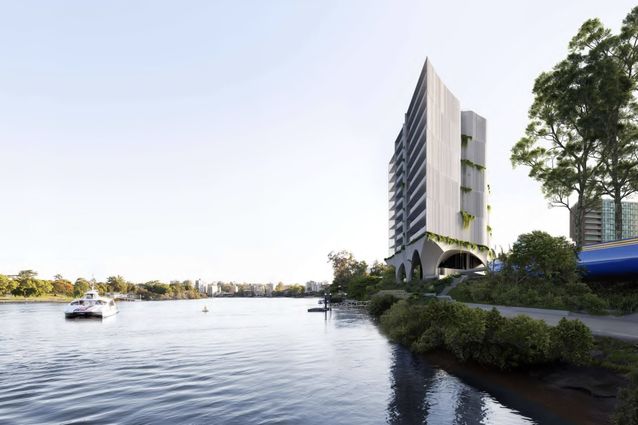 Bureau Proberts has designed a 10-storey apartment building for a triangular site on the western riverbank at Toowong, Brisbane.
The tower would extend to the edges of the site, maximizing frontage towards the river while responding to the landscape.
"The architecture responds with wide open verandas, transparent apertures, and planted edges to embrace its riparian setting," states Bureau Proberts. "The battened screen evokes the rippling surface of the river with a gentle sense of movement achieved by varying the cadence of its vertical rhythm over each level."
The apartments are planned for optimum cross-ventilation and access to daylight, with acoustic glazing and a screened envelope ensuring glare, heat, and noise are minimized.
Communal amenities on the rooftop would provide outdoor space and capture views to the city. Landscape design is by Cusp.
The tower would house 29 three-bedroom apartments. See the development application here.
Related topics

>