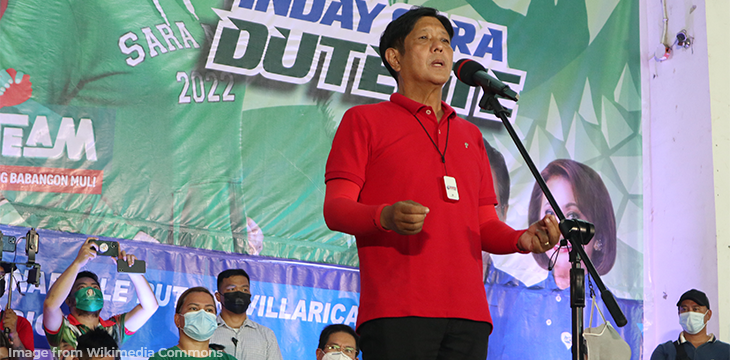 Philippines President Ferdinand Romualdez Marcos Jr., commonly referred to as Bongbong Marcos or PBBM for short, has shared a national digital transformation plan that signals that the country could become a global digital asset hub. 
In his first-ever State of the Nation Address (SONA), the president stated that his government is looking to integrate breakthrough technologies into every aspect of daily life in the Philippines as part of efforts to digitize the Southeast Asian country. 
"Breakthrough technologies in the areas of quantum computing, artificial intelligence, nanotechnologies, the internet of things, robotics, self-driving electric vehicles, 3D printing, and Virtual and Augmented Reality, among others, will radically transform the way business is done," he said.
Marcos specifically plans to sign several bills that will open the country up to these innovations, including blockchain technology which it has been exploring. He revealed that the E-Governance Act, the Internet Transactions Act, and tax reforms to accommodate digital service providers are among his top priorities.
The E-Governance Act will mandate the Department of Information and Communications Technology (DICT) "to identify and utilize these innovations to improve governance" and create an "E-Government Masterplan." 
The bill will allow the government to kick off its e-identity project, which aims to issue 20 million digital and 30 million physical IDs by the end of 2022. 
The bill will also allow for the digitization of government services and the harmonization of records. According to the Philippine Daily Inquirer report, this could highly leverage blockchain technology and digital assets. 
The Philippines likely to deepen exploration of blockchain technology uses cases 
Notably, the Philippines has already been on a digital transformation path. One technology that has caught the focus of several government parastatals has been blockchain/distributed ledger technology (DLT).
The Department of Science and Technology (DOST) has recently launched an in-house blockchain training program to explore DLT use-cases in financial support, emergency aid, healthcare, issuance of passports and visas, government record keeping, and trademark registration. 
Similarly, the Philippines Port Authority began to employ blockchain technology for use in handling logistics records of the operations of several key seaports. 
Meanwhile, the central bank and the electricity market operator say they are studying blockchain technology to improve the financial market infrastructure and peer-to-peer energy trading, respectively. In addition, the country has been working on its central bank digital currency (CBDC). In an interview with CoinGeek, Bangko Sentral ng Pilipinas Assistant Governor Edna Villa there is a positive response coming from government banks and large commercial banks in joining the pilot project.
Watch: The BSV Global Blockchain Convention panel, Blockchain for Digital Transformation of Nations
New to Bitcoin? Check out CoinGeek's Bitcoin for Beginners section, the ultimate resource guide to learn more about Bitcoin—as originally envisioned by Satoshi Nakamoto—and blockchain.

>