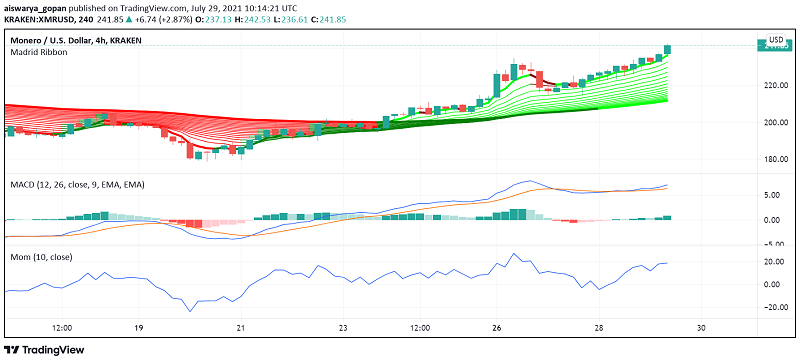 Privacy-focused cryptocurrency Monero (XMR) is edging higher, in line with our forecast, on Thursday, extending its bullish mood supported by the positive sentiment in the wider crypto sector as market leader Bitcoin gets ready to test the key $40,000 level. At the time of writing, XMR/USD is trading around $240.
The cryptocurrency that allows users to conduct transactions in complete anonymity experienced a sudden increase in the number of daily transactions taking place over its network about a week ago, helping its price climb higher. After averaging around 20-30 transactions per block, the figure started climbing higher since July 22 and continues to remain above 45 after peaking over 57.
Earlier this week, Monero cautioned users about the discovery of a significant bug in the network's decoy selection algorithm – the system that hides real output transactions among 10 decoys inside a ring. The bug raises the probability of correctly identifying true spend among decoys in case users spend funds within 20 minutes of receiving the funds.
The company has since clarified that only a small percentage of past transactions could be impacted by the bug and that recent transactions would be ignored by the algorithm. While developers work on a fix for the bug, users can continue to safeguard the privacy of their transactions by waiting at least one hour before spending funds they receive in XMR.
Unlike most other cryptocurrencies, the outlook for Monero faces more uncertainties as it is likely to come under higher regulatory scrutiny owing to its technology for complete privacy in transactions, which makes it an attractive option for criminals to transfer payments digitally. The rising number of ransomware attacks in which hackers demand payment in cryptocurrencies has led to more initiatives among authorities, for instance, the latest being offering of bounties by the US Department of Justice (DOJ) of up to $10 million for assistance on tracking down persons or groups responsible for cyberattacks within the nation. This comes a few months after the IRS offered a bounty of up to $625k for assistance to trace trades on Bitcoin Lightning Network and other privacy-centric cryptos like XMR.
Key Levels to Watch
Taking a look at the 4-hour price chart of XMR/USD, we find a strong bullish bias among the moving averages and the MACD indicator. However, sellers also appear to be looming, as signaled by the momentum indicator on the chart.
XMR/USD
The price is well above the pivot point which sits around the $202 mark. In addition, buyers have successfully taken Monero's price above two resistance levels at $225 and $238. The next target is the $274 level where they could encounter some more resistance as the XMR price heads on higher.

>