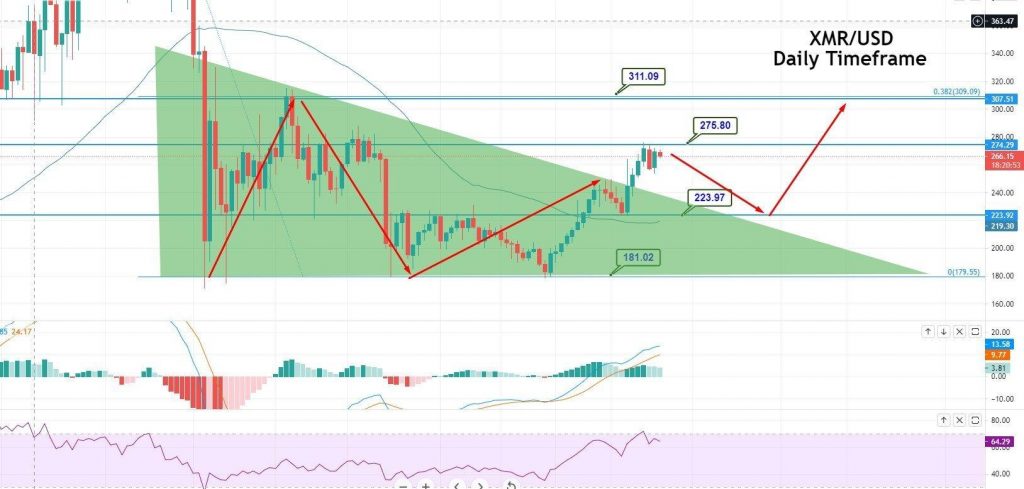 The XMR/USD failed to stop its bearish performance of the last session, still flashing red below $260.00, as traders could not digest the newly discovered Monero (XMR) glitch, which affects transaction privacy negatively.
The developers of Monero (XMR) discovered a bug capable of exposing user transactions. Although the Monero team is working to fix it, they have announced that privacy is at risk as long as the bug exists. Monero made this announcement through their official Twitter account, and the news has been pushing the Monero prices down.
The Monero is trading at $264.510, with a 24-hour trading volume of $218,407,585. Monero has dropped by 2.86% in the past twenty-four hours. Apart from the security debacle, the downticks in the XMR/USD coin pair could also be associated with the strong US dollar.On the USD front, the greenback was up on the day, climbing towards a 4-month high against a bucket of other currencies. The USD got a boost from the vital US jobs report that raised hopes that the Fed could start asset tapering and hike interest rates earlier than expected. These upticks in the US dollar kept the XMR/USD coin pair under pressure. The latest US jobs report, released on Friday, showed that non-farm payrolls had grown by a better-than-expected 943,000.
Monero Coin – XMR/USD – Technical Outlook – Brace for a Breakout
On the technical front, the XMR/USD coin is consolidating within a narrow trading range of 275 to 240. Monero has already violated the descending triangle pattern that supported the coin at 181, with a resistance level of 240. For the moment, the XMR/USD coin may find the next resistance at 275. A bullish breakout at this level could lead the price towards the next resistance level of 311.
At the same time, the immediate support continues to hold at the 249 level. The leading indicators, like the RSI and the MACD, are suggesting bullish bias in Monero. Let's consider taking a buy position over 275 and a bearish one below that. Good luck!

>