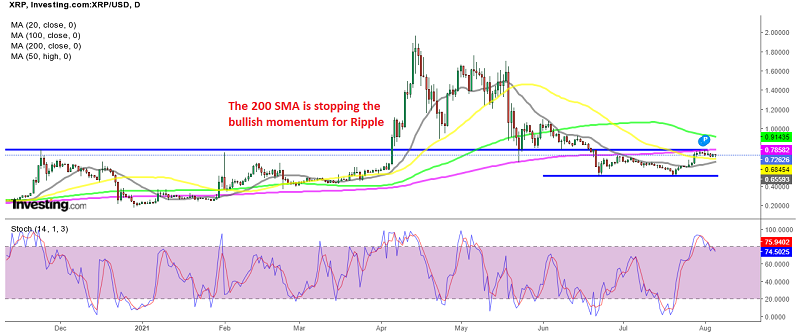 The sentiment in the cryptocurrency market has been improving considerably in the last three weeks, after the really bearish momentum during the previous few months. The sentiment has improved further this week, although Ripple coin is not benefiting much, after the first jump higher to the previous resistance, which comes at around $0.78 for XRP/USD.
It's the moving averages that have been keeping RIPPLE coin under control in recent days. The price broke the 20 SMA (gray) and the 50 SMA (yellow) without much resistance on the daily chart, but the 200 SMA (purple) is not letting go. This moving average turned into support during the crypto crash in May and then turned into resistance at the end of June, with Ripple trying it from the downside that time.
XRP/USD
Now, XRP/USD is retesting the 200 SMA, but it seems to be failing once again. Bitcoin retreated lower twice and bounced right back up above $40,000, which shows strong buying pressure for this crypto, along with most of the crypto market, although Ripple seems too weak up here. In fact, the 50 SMA is acting as support, but we are not seeing a bounce above the 200 SMA, which shows too much hesitation from Ripple buyers.
The 20 SMA is preventing Ripple from moving higher on the weekly chart
On the weekly chart, we see that Ripple coin was finding support at the 50 SMA (yellow), which held for more than a month. Last week XRP/USD bounced off that moving average after forming a pin candlestick, which is a bullish reversing signal. But we saw no follow-through this week, and Ripple coin has just been stagnating. So, for the time being, there's not much buying pressure down here below the resistance level.

>