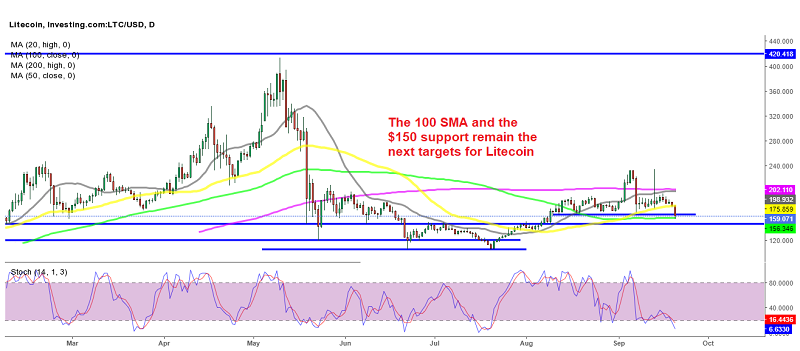 Cryptocurrencies have continued the second leg of the decline, which started exactly two weeks ago, when El Salvador adopted Bitcoin, and the establishment decided to make an example out of this case. The decline hasn't been as detrimental as the crypto crash in May, but it continues, and yesterday we witnessed the second leg of this downtrend, which sent major cryptos below some important support levels. However, some support levels/indicators still remain, so let's have a look at them in Litecoin and Axie Infinity coin.
LTC/USD
It seemed like Litecoin had left the bearish times behind, after pushing above the 200 SMA (purple) early this month, but it came at a bad time, right before the second crypto crash, which wasn't as bad as the first one,although it continues to push prices down in the market.
The second time LTC/USD climbed above the 200 SMA was when GlobeWire announced that Walmart was going to accept Litecoin (LTC) for payments in its stores. Walmart rejected that claim and the price tumbled again, showing that there was considerable selling pressure above the 200 SMA.
The support at $160s held, and the 50 daily SMA was pushing the lows higher, but yesterday, the next bearish wave came, pushing the price below both these indicators. The 100 SMA (green) held on the daily chart though, and below that we have the previous resistance zone below $150.
Will the 50 SMA hold on the weekly chart?
On the weekly chart, LITECOIN has formed a bearish reversing setup with candlesticks forming a bearish pattern below the 20 daily SMA, while the stochastic indicator reversed down from overbought levels. Jay Milla, who is the director of the Litecoin Foundation, said in a recent tweet that "the number of active addresses on the Litecoin network has surpassed that of both Bitcoin Cash and Dogecoin", which is great for Litecoin, but not right at this moment. Litecoin is following the rest of the crypto market down, so until the sentiment changes, we will stay out of Litecoin.

>