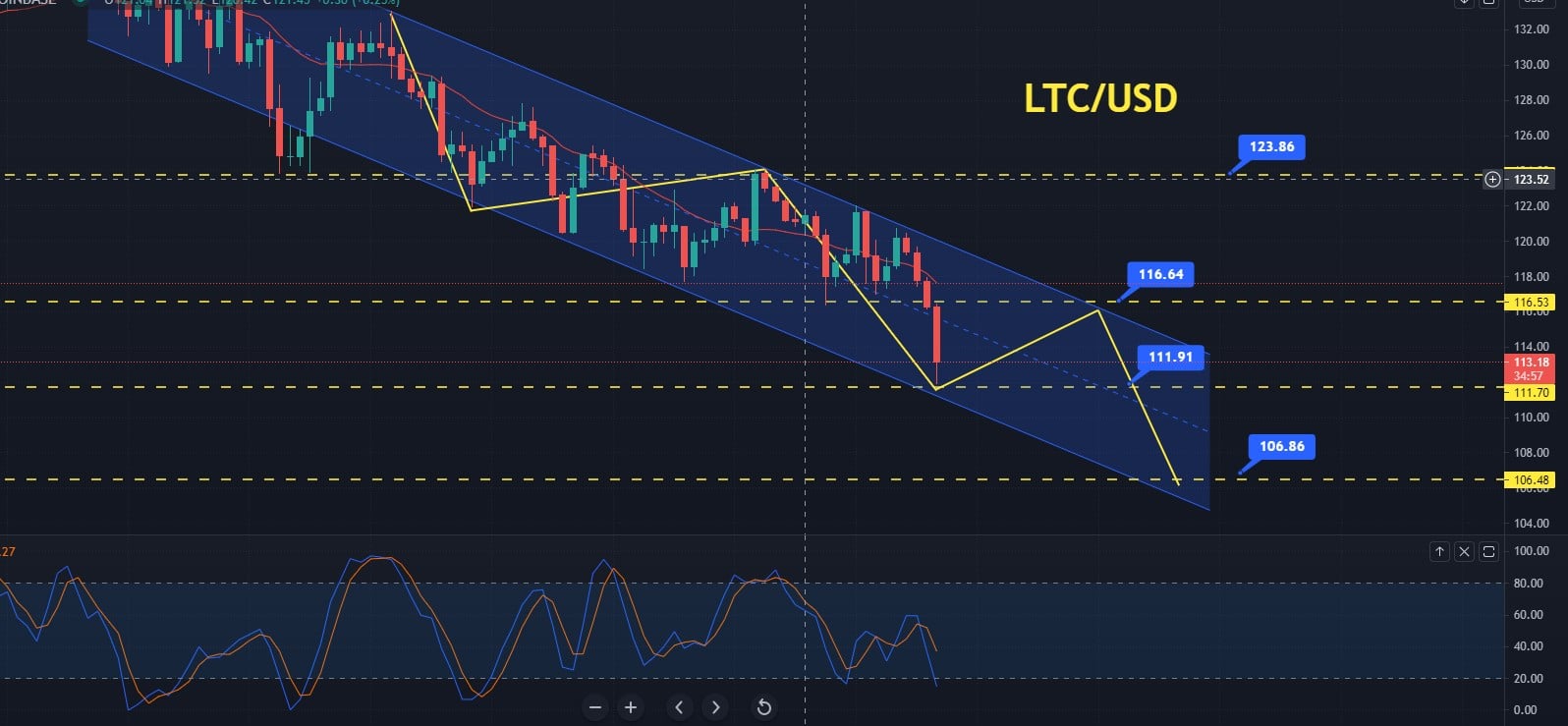 Litecoin Supported After PayPal Allows Buying $100K Worth Crypto

The uptick in U.S. Dollar Pushes LTC/USD Below $116.650 Support

Double bottom ready to breakout, sell-stop at $0.5720
The LTC/USD crypto pair failed to stop its previous long downward rally and dropped further after it failed to stay above $120.681 against the U.S. Dollar. Litecoin's price is fell by 4.70% in the last twenty-four hours and holding the $112.160 support. After a failed attempt to settle above $115.52, LTC extended its decline toward 112.160. The LTC price could continue its declining streak if it fails to recover above $115.00 and $120.500. 
Litecoin's price forecast remains strongly bearish as it's heading towards the target level of $111.900. The LTC/USD is trading at the $113.067 level on the day with a 24-hour trading volume of $1,219,137,249.
If you are interested in trading LTC/USD with forex robots, check out our guide.
Litecoin Supported After PayPal Allows Buying $100K Worth Crypto 
The LTC/USD coin recently got some lift after the U.S. financial player PayPal has announced that its users can now buy $100,000 worth of Bitcoin, Ethereum, Litecoin, and Bitcoin Cash weekly. Although, the upticks were short-lived and temporary as the unstable crypto market and stronger U.S. dollar tend to undermine the LTC/USD pair. 
As per the latest report, the U.S. financial player PayPal has declared that its users can now purchase as much as $100,000 worth of supported cryptocurrencies through its platform starting this week. 
The increased demand by their client base and the growing importance of the crypto space played a leading role in their decision to up the crypto limit. 
Jose Fernandez da Ponte Positive Remarks Fails to Support LTC 
Jose Fernandez da Ponte, the firm's vice president of blockchain, crypto, and digital currencies, announced that the "changes would allow our users to have more choice and flexibility in purchasing cryptocurrency on our platform." These headlines did not leave a notably negative impact on cryptocurrencies, including Litecoin, yet.
Uptick in U.S. Dollar Pushes LTC/USD Below $116.650 Support. 
The broad-based U.S. dollar strong performance may push LTC/USD coin into further losses. The greenback extended its early-day upward rally and remained bullish near its highest levels in months on Monday. The mounting coronavirus cases raised investors' worries about the global recovery and sent money into safety. Thus, the upticks in the U.S. dollar were seen as one of the key factors that kept the LTC/USD coin under pressure.
Litecoin Price Forecast – Technical Outlook: LTC to Target $111.90
Litecoin price forecast is strongly bearish as it has violated the 116.650 level. On the 2 hour timeframe, the LTC/USD pair was gaining support at 116.650 that was being extended by a double bottom. 
At the moment, the Litecoin has formed bearish engulfing and three black crows pattern at 113. This demonstrates strong selling sentiment among investors. 
On the 2-hour chart, the LTC/USD has crossed below 50 M.A. (moving average – red line). This MA is now extending resistance at 116.650, and it's likely to keep the pair bearish. Whereas the Stochastic is holding at 37, supporting a bearish trend. 
Technically a breakout of 111.900 level can bring more selling until 106.90 level. But before this, a slight correction is expected above 111.90 until 116.64.  
The LTC/USD price forecast remains bearish today. Therefore, the forex trading participants may look for a sell limit at 115.010 to target 111.90 and 107. All the best. 
Looking to buy or trade crypto now? Invest at eToro!
Capital at risk

>