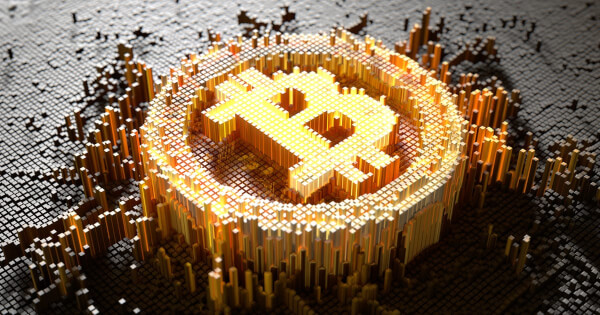 Bitcoin's price has been on overdrive due to its surge recently breached the psychological level of $60K for the first time in six months. 
This rally has been boosted by the massive transaction volumes that have dominated the BTC network, as acknowledged by Ali Martinez. The market analyst explained:
"Bitcoin is not slowing down! The number of large BTC transactions on the network with a value of $100,000 or greater just made a higher high of 30,310 txs. Large txs act as a proxy to institutional players' and whales' activity, pointing to how they're investing and positioning."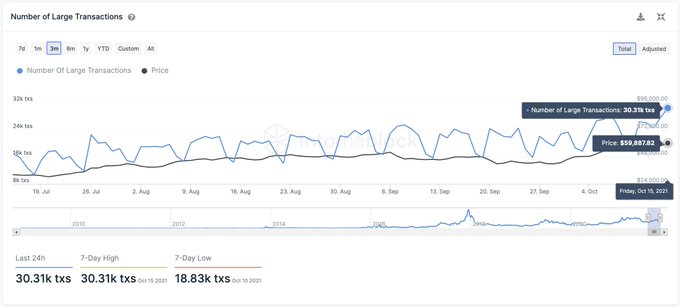 These large transactions have been showing the trickling of big money in recent months. 
For instance, transactions worth more than $10 million have dominated over the last month, at one point reaching as high as 84% of overall Bitcoin volume. Therefore, it shows the presence of institutional capital. 
Some of the corporate giants which leading the institutional investment race include leading American business intelligence firm MicroStrategy. This company committed $242.9 million to purchase a new batch of Bitcoin, bringing its total holdings to 114,042 BTC.
Institutional investments have played an instrumental role in Bitcoin's journey towards record-high prices. For instance, big-money moves enabled the leading cryptocurrency to hit an all-time high (ATH) price of $64.8K in mid-April.
BTC whales are on a buying spree
Bitcoin whales continue to increase their holdings. Martinez acknowledged:
"Addresses holding 100 to 100K BTC bought over 30K BTC worth roughly $1.8 billion in the last three days while more than 10K BTC were removed from known crypto exchange wallets within the same period."

Meanwhile, the number of BTC addresses holding at least 100 coins reached a one-month high of 16,128.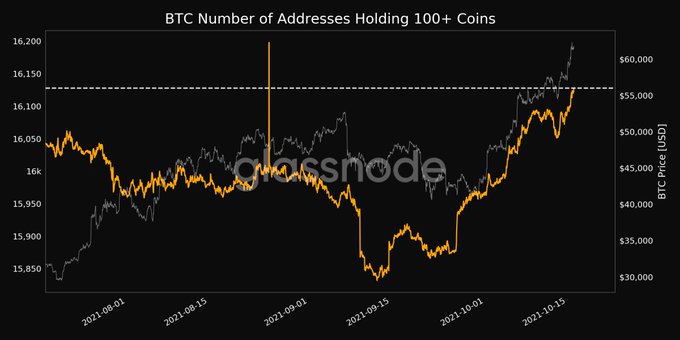 Holding is a favoured strategy in the Bitcoin ecosystem because coins are stored for future purposes other than speculation. 
Image source: Shutterstock

>