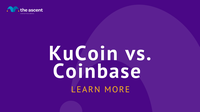 When you buy cryptocurrency there are three main types of fees to be aware of:
Deposit fees
Trading fees
Withdrawal fees
Every platform has a different fee structure, so before you set up an account, think about how you plan to deposit money, how often you want to trade, and how you will make withdrawals. For example, if you want to keep your assets in an external wallet, check out the costs involved in doing this.
Coinbase actually has two platforms, one that's designed for beginners and Coinbase Pro, which is aimed at more experienced traders. Trading fees are much lower on Coinbase Pro, so if you plan to trade even semi-regularly, it's a good idea to learn how it works.
Let's take a look at how these three platforms compare:
KuCoin
It is free to deposit cryptocurrency on KuCoin and this does not require KYC approval. However, the only way for U.S. users to buy crypto on the platform with fiat money is via third party transfers such as simplex or banxa. KYC-verified customers from other countries may be able to deposit money via bank transfer, depending on where they live.
Before we get into the trading fees, let's say you bought $500 of Bitcoin (BTC) using one of the third party apps. Pay attention to how much BTC you'll receive and check it against the going rate. For example, we only got $480 worth of Bitcoin on one of the apps, which is essentially a 4% fee.
Once you've got crypto assets on the platform, the trading fees are lower than a lot of exchanges, including Coinbase. KuCoin uses a maker-taker system and discounts fees if you pay with and hold its native token, KCS. Level 0 (the entry pricing tier) charges a maker-taker fee of 0.1%. Fees are also slightly higher for less common cryptocurrencies.
READ MORE: Our full KuCoin review
Coinbase
Coinbase makes it extremely easy to convert dollars into Bitcoin or any other popular crypto. However, it isn't so easy to understand how much you're paying in fees. Coinbase charges depend on your payment method and the transaction amount.
For example, to buy $500 of Bitcoin by debit card, you'd either pay a 3.99% processing fee or a $2.99 set fee — whichever was higher. In this case, the $19.95 processing fee.
You'll also pay an unspecified spread (which should be around 0.5% of each transaction) — which is built into the rate quote you see before you buy.
READ MORE: Our full Coinbase review
Coinbase Pro
Fees on Coinbase Pro are not only lower than on the main platform, but they are also more transparent. For starters, you can deposit money via bank transfer for free.
To trade, you'll pay a maker-taker fee which decreases for higher monthly trading volumes. The basic level for people who trade less than $10,000 a month, charges a maker-taker fee of 0.5%. So it would cost just $2.50 to buy the same $500 worth of Bitcoin.
For anyone who wants to buy using fiat money, Coinbase Pro comes out ahead in terms of fees.

>