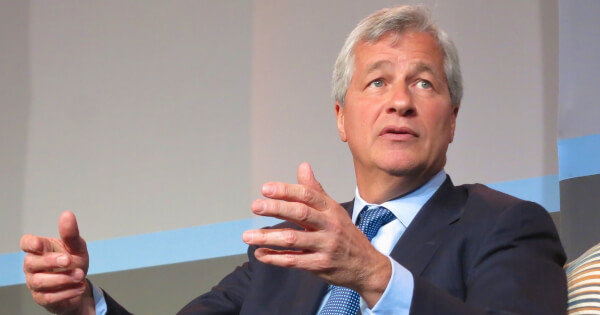 Jamie Dimon, the chairman and CEO of JP Morgan bank, has once again stated that he is still not interested in Bitcoin as an investment.
During an Institute of International Finance event on Monday, October 11, Dimon stated that governments will come to regulate crypto assets and he personally thinks that Bitcoin is worthless.
"No matter what anyone thinks about it, the government is going to regulate it. They are going to regulate it for (anti-money laundering) purposes, for (Bank Secrecy Act) purposes, for tax," Dimon stated during the event.
Although he thinks that Bitcoin will continue existing for the long term, he always believes that the cryptocurrency would be made illegal in some places, like China made it illegal so he thinks that the asset is a bit of fool's gold.
Dimon, a prominent leader of the largest US bank, has been critical of the cryptocurrency, once calling it a fraud and later stating that he regretted uttering such a statement.
In May, Dimon reiterated his stance on Bitcoin, stating that the crypto is not supported by an asset and therefore has "no intrinsic value".
While in June, JPMorgan bank started providing its wealth management clients access to crypto funds, Dimon stated that his views are different from those of the bank and its board. He said that: 
"I personally think that Bitcoin is worthless."
He further added that: "I don't think you should smoke cigarettes either."
"Our clients are adults. They disagree. If they want to have access to buy or sell bitcoin – we can't custody it – but we can give them legitimate, as clean as possible access," Dimon mentioned.
Though Dimon's personal views on the flagship cryptocurrency have not changed much, it appears that there is a significant change in his tone about the crypto. He stated that his opinion does not imply that JPMorgan clients don't want exposure to Bitcoin.
New Regulations Likely
Dimon's statement about cryptocurrency regulation may be right. Recently the US government has increased its focus on regulating crypto markets.  
On Friday, October 8, Reuters reported the Biden administration to be weighing an executive order that would instruct federal agencies to study and provide recommendations on the cryptocurrency market.
Although increased regulation may occur, at the beginning of this month, Federal Reserve chairman Jerome Powell and SEC chairman Gary Gensler clarified that the US has no plans to ban Bitcoin and other cryptocurrencies.
Some financial experts claim that well-thought-out regulation would benefit the US to make cryptocurrencies become more mainstream.
However crypto users are wary that further regulation could stiffen cryptocurrency innovation in the US and drive crypto businesses overseas.
Image source: wikipedia.org

>