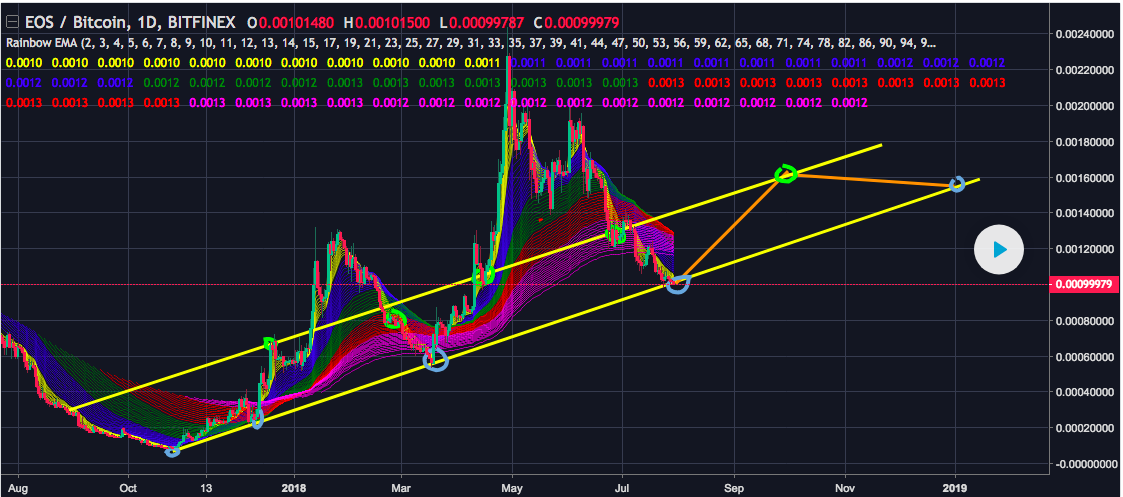 In June of 2018, the EOS (EOS-USD) marathon crowd sale came to an end. The platform managed to raise over $4 billion, making it the largest ICO in history. What has made EOS so popular is the fact that in many ways it's seen as an improvement of the Ethereum platform. EOS promises to handle millions of transactions per second and also to take away any transaction fees.
The excitement and hype is real on this one; with prices climbing above $20 per coin earlier this year. It's settled back down to nearly $5 now; though that's a 15% hike from its lowest point in August. Is now the time to invest in EOS? Is it really better than Ethereum?
Bettering Ethereuem
Even despite the ICO-craze, there is a reason EOS managed to raise over $4 billion in funding. Many believe the scalability solutions it offers will ensure that it will take a large section of the smart contract market from Ethereum. And smart contracts have big, big hype around them.
The project so far has been endorsed by a number of key investors, with many of them heavily invested in the project. The list includes Peter Thiel of PayPal (just last month!), Jihan Wu of Bitmain, Mike Novogratz of Galaxy digital, Angermayer of Aperion Investment group, and hedge fund managers Alan Howard and Louis Bacon.
After investing in the project Jihan Wu said:
"The EOSIO protocol is a great example of blockchain innovation. Its performance and scalability can meet the needs of demanding consumer applications and will pave the way for mainstream blockchain adoption."
Part of what has attracted an impressive list of Billionaires to the project is the number of different solutions the platform offers, especially when compared to existing competitors.
These include:
The ability to process thousands of transactions per second. By the second week of launching the Mainnet, the platform was processing up to 1200 transactions per second as compared to the 15 the Ethereum network was measured at.
Unlike Ethereum which can be developed using only one language, solidity, EOS can be developed using different languages.
Eos takes away all transaction fees.
By utilizing Delegated Proof-of-stake, EOS can freeze accounts which suffer hacks and this can save the network from coming to a complete halt—providing relief from worried investors after what we sa with the DAO hack on the Ethereum network.
So far, after only two months of the Mainnet being launched the token is sitting sixth in the crypto charts with a market cap of $4 billion and some say it's only a matter of time before it competes with Ethereum for attracting use cases.
Those who are of that opinion seem to be banding together, as seen by the news this week of a new EOS Alliance, a group of crypto investors working to make sure EOS can achieve the hype that's been set before it.
"The Top Blockchain Platform"
The Chinese government through the China Electronic Information Industry Development (CCID) recently released a second ranking of the best blockchain platforms around the globe. The list saw EOS top Ethereum by a wide margin.
The list was based on three categories; technology, innovation and application with each category being awarded points. EOS managed to outperform the other blockchain platforms in the technology and innovation categories with NEO taking the applicability category. However, overall EOS was victorious taking 161.5 points with Ethereum coming in second with 138.4 points.
The first ranking held by the organization saw Ethereum come on top, however, as we have seen, EOS is offering a number of improved solutions and for this reason, it is already being seen to be far superior to Ethereum.
With time we should expect to see the platform gain mass adoption among users and this will definitely push its price up. Some experts have predicted that the coin could hit $35 come to the end of the year.
Price Analysis
Price wise, EOS has had its own separate trend line. Accusations of price manipulation have run deep here; affecting investor confidence in purchasing or trading for EOS of course. But that might be a blessing in disguise, as the price has been squashed down to 25% of its all-time-high and could be undervalued for a project that's already raised $4 billion.
Fundamentals show that EOS might be in a sideways trend for longer; though this chart makes the case for growth to come in the next few months.
EOS LONG Chart, courtesy of tradingview.com user pdittyme
Our take is that if the market recovers, EOS simply has too many big names (and big pockets) attached to not at least make a run at some serious smart contract value speculation. As Ethereum continues to attract more interested parties, EOS will be right behind it; a note that should see value and price both rise in the quarters to come.
Bitcoin may have come down from the stratosphere, but there's still an abundance of opportunities in cryptocurrencies. At the Coin Agora, our focus is on Altcoins – the smaller cap cryptos that have massive potential to disrupt business ecosystems. Invest with us for your chance to get in on the ground floor. Our mission is to help you find small, new and growing coins and reap rich returns. Let us help you cut through the noise and find winners – join the Coin Agora community today!
Disclosure: I/we have no positions in any stocks mentioned, but may initiate a long position in EOS-USD over the next 72 hours.
Business relationship disclosure: This article was written in conjunction with an analyst; no one involved has any relation to EOS.

>