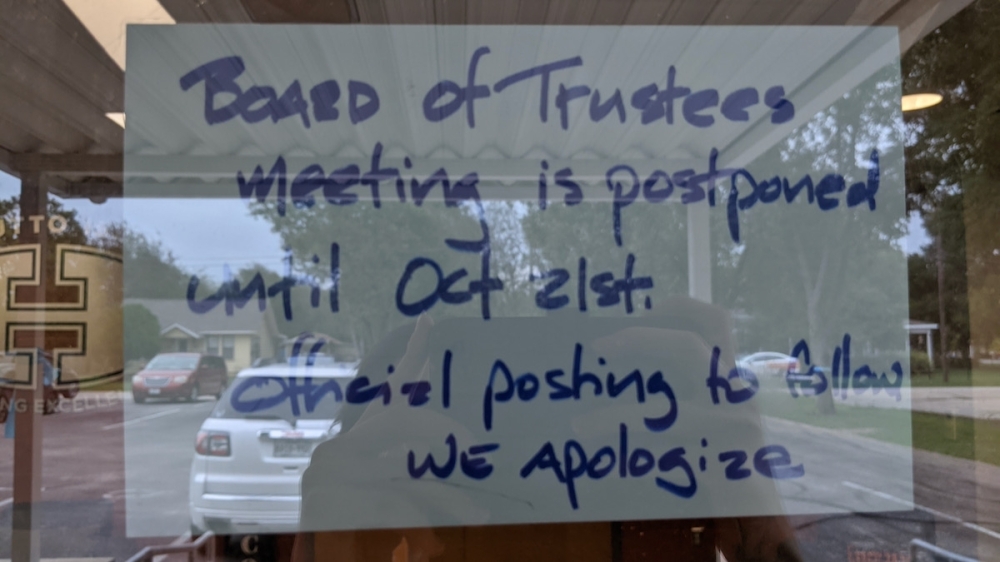 A sign posted outside the Hutto ISD administration building alerted would-be meeting goers to the postponement. (Carson Ganong/Community Impact Newspaper)
Hutto ISD's Oct. 13 board meeting was postponed at the last minute due to a conflict with a Hutto High School football game.
The meeting was originally scheduled for Oct. 14 and the HHS football game for Oct. 15, but the game was moved to Oct. 14 following the delay of Hutto Memorial Stadium's reopening.
Because many members of the public and district staff attend both board meetings and sporting events, the board meeting was rescheduled for Oct. 13.
However, Brad Domitrovich, interim executive director of communications and community relations for HISD, said the district failed to update the website with the new meeting date and did not send out the usual social media notices.
Ultimately, he said, the district deemed it best to postpone the meeting so it could properly alert the public ahead of the meeting.
The meeting will now take place Oct. 21.

>