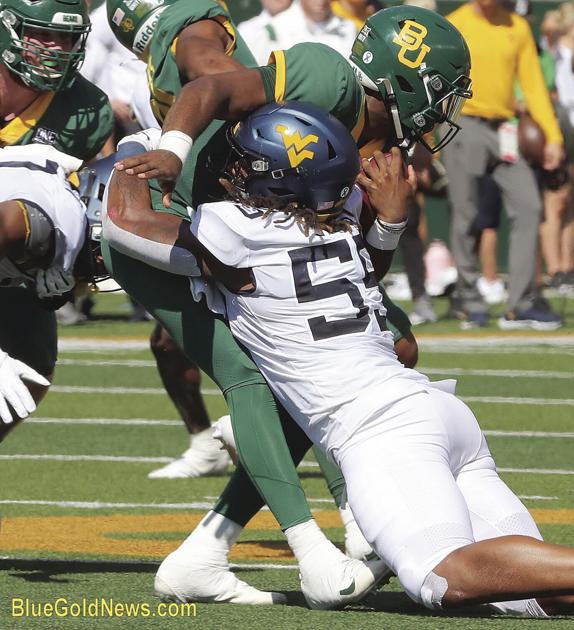 MORGANTOWN, W.Va. (WV News) — Just as Neal Brown's Tuesday press conference was reaching its end, almost a half hour into it and after once they tried to cut it off, he accepted one final question and it was about the defensive line.
He wasted no time singling out senior defensive tackle Dante Stills, which was no surprise.
Since he joined brother Darius on campus four years ago the expectations surrounding him were huge and, to be honest, it didn't happen right away.
But now this All-Big 12 performer, who was selected as the Big 12's pre-season defensive lineman of the year, has hit full stride and Brown simply says he's playing the best he's played in his career.
You've all seen it, including a huge key sack in the closing minutes of West Virginia's upset victory over Iowa State last week.
But there is a flip side to what you see and that would be what you don't see, something Brown referred to as he heaped praise upon Dante Stills.
"Dante — and I don't pay as much attention to the stat sheet as most people — Dante has played his best football the last month. Sometimes that shows on the D-line with sacks and tackles for losses, but sometimes it doesn't.
"He's done his job — and Ahkeem Mesidor the same — which has enabled our linebackers to play better, our other D-linemen to play better."
The linebacker who has benefitted most is WVU's leading tackler, Josh Chandler-Semedo, who last week following the TCU game in which he made 12 tacklers publicly credited Stills with exactly that, drawing so much attention to himself that it would open gaps to the ball carrier for him.
Stills agrees with both assessments.
"I'm definitely moving around a lot better," he said. "I'm making big plays, like key plays. I'm trying to stay active out there, move around, just be in the backfield and cause havoc out there. I try to do my thing, the whole D-line tries to do its thing and be disruptive."
Stills, another of those Fairmont Senior prospects who have stayed at home and helped WVU grow in both football and basketball, understands that judging him can't just be done from the stat sheet.
People don't see the work that goes on in the weight room and on the practice field, to say nothing of in the meeting room. They don't see the wide-eyed kid who came into the program and how he used the repetitions he got to improve.
But they also don't see him on Sundays watching pro football, not rooting for a team but instead studying the defensive linemen and the moves he make. While you are watching the ball, he's watching those who are watching the ball on the field and what they do to stop its advancement down the field.
And when everything comes together and he breaks into the backfield and knows he's got to get a sack or a tackle for a loss, his juices start flowing.
"It's probably one of the best feelings, knowing you are about to get a sack or a TFL." he said after the TCU win. "It comes about by being fast off the ball, using your hands, being aggressive.
I do get shocked sometimes when it just opens up for you. It's like, 'Oh, crap, now you got to run him down and get him.':
Stills realizes that he's reaching the end of his career in four or five more games. He has another year of eligibility due to the COVID-19 season that he could use but chances are, considering he almost left a year early, that he isn't going to stay for that.
"It's crossed my mind, but I want to wait and see what happens this year, then see what the scouts are saying," he said.
All he really knows is that time has whizzed by him.
"It's definitely going faster than I expected," Dante Stills said. "I still remember Week 1, going through practice. I still remember my first year. It's gone quick. It sucks. When you get here you want to grow up and be an upper classman really quick, but when you are here it's dang, it's almost done. I want to cherish every moment."
Follow @bhertzel on Twitter

>