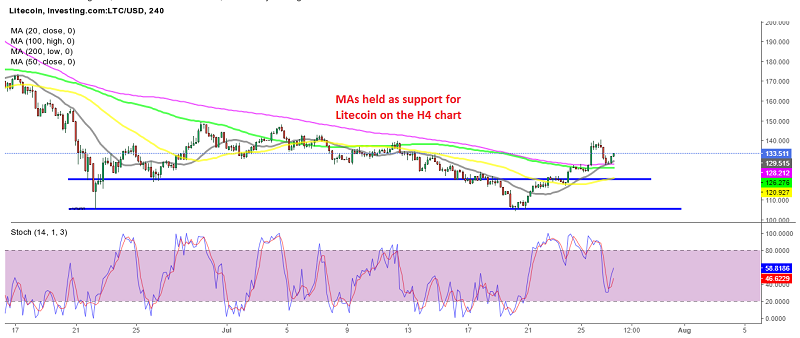 The sentiment in the cryptocurrency market seems to be changing in the last several days, since last Wednesday. A week ago, the situation was looking very grim for cryptocurrencies since buyers were nowhere to be seen and the bounces were very minimal. Sellers have been in total control the whole month in July and last Tuesday we saw a break of the previous support, which was the June low.
But the next day we saw a sudden reversal higher, which turned into a bullish trend, as Bitcoin moved above $40,000, while Litecoin climbed above $140, coming from a low of $104. There were a number of comments last week, which were positive for cryptocurrencies, helping improve the sentiment in this market.
One of the main news which pushed cryptos higher was that Amazon was going to accept Bitcoin as a means of payment. Amazon rejected that claim, which was a factor in the retreat in the cryptocurrency market, but it seems like it won't determine the fate of this market after all.
LTC/USD
Cryptocurrencies retreated nearly 10% off the highs in a quick reversal, which looked like a quick dump of cryptos after the target was reached, especially in BITCOIN which reversed at the resistance area above $40,000. Litecoin retreated from $140 and decline below $120, so it seemed like the bearish trend was back on.
But, the bearish momentum didn't last long as moving averages turned into support. The 20 SMA (gray) turned into support earlier last week as the momentum was shifting, while the 200 SMA (purple) which was providing resistance during the weekend turned into support as well. Now LITECOIN is bouncing higher and is more than $5 off the lows, with the stochastic indicator also turning higher.
So, it seems like the bullish momentum has picked up again in cryptocurrencies pretty quickly. This is a strong bullish signal, but the main obstacles still remain above, at $140 and $180 for Litecoin, while in Bitcoin that resistance zone stretches from $40,000 until $43,000. We want to go long on Litecoin, but let's see if this bullish momentum will continue.

>