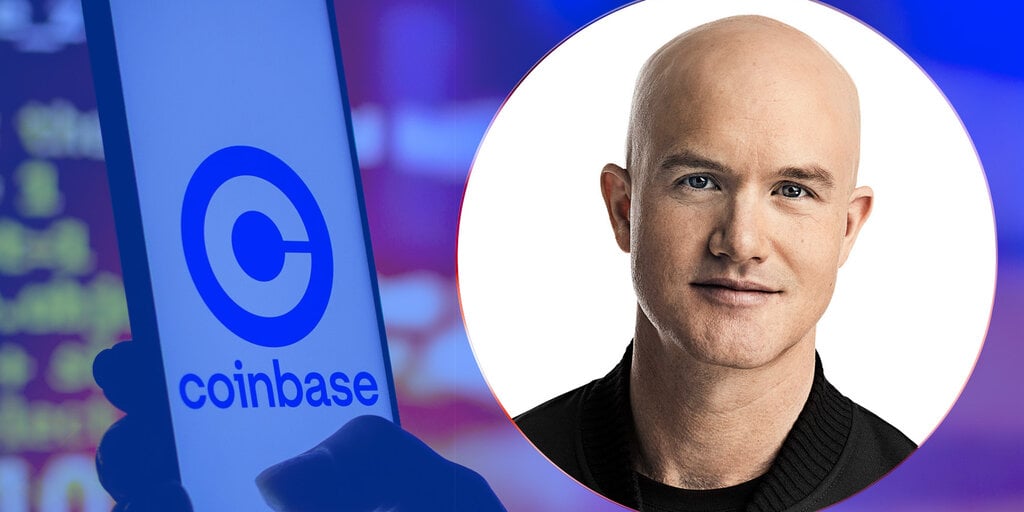 Coinbase co-founder and CEO Brian Armstrong is having a good week, his company stock value soared as hopes for a Bitcoin spot ETF surged. Perhaps feeling generous, he shared ten emerging ideas in the cryptocurrency space that he said excite him.
In a Twitter Spaces monologue that ran for more than 20 minutes, the executive said he wanted to "put these out in the ecosystem in the hopes that others would take these up."
"We're building lots at Coinbase, but we don't have time to tackle everything, so I figured I'd share these," he wrote. "Bear markets are the best time for building—why not start today?"
1/ I'm sharing the 10 ideas I'm most excited about in crypto right now. If you're building something in crypto or thinking about doing so – check it out.

We're building lots at Coinbase, but we don't have time to tackle everything. So I figured I'd share these. Bear markets are… pic.twitter.com/XKzCkMaOOT

— Brian Armstrong 🛡️ (@brian_armstrong) August 30, 2023
Shortly after publishing his thoughts, Ryan Selkis, co-founder of the crypto market intelligence firm Messari, posted a response to each idea.
1. Flatcoin
"A flat coin that tracks CPI could be a huge opportunity for the crypto economy to really leapfrog in many ways," Armstrong said. He proposed a "decentralized coin that tracks the CPI (consumer pricing index)" to provide stability and inflation resistance—unlike volatile cryptocurrencies or fiat-backed stablecoins. He said that a CPI-linked Flatcoin could enable smart contracts to maintain purchasing power and hedge against inflation across borders.
2. On-Chain Reputation
Armstrong suggested tracking entity reputation on the blockchain as a way to combat fraud. "We don't yet have a reputation system associated with ENS," he said, referring to the Ethereum Name Service. He proposed an algorithm like Google's PageRank that scores blockchain addresses and ENS names by transactions to provide trusted identity and prevent fraud.
"I've invested in a couple of projects in this area," Selkis replied, linking to portfolio companies Curious Addys and The Rabbit Hole.
3. On-Chain Advertising
The Coinbase CEO said "on-chain ads" could charge advertisers only when a specific action is completed, rather than just displaying an ad. "Given the unique properties of Web3, we might be able to do this," he said. Smart contracts could enable pay-per-action advertising if transactions included optional referral data.
I've invested in [Antonio García Martínez]'s crypto adtech company Spindl (focused on attribution), but haven't seen many on-chain ad plays yet," Selkis agreed.
4. On-Chain Capital
"On chain capital formation"—tracking the net accumulation of capital goods, such as equipment, tools, transportation assets, and energy—could increase access to fundraising, Armstrong said. He suggested tools to help projects form entities, register securities, and connect with investors to enable anyone worldwide to innovate.
5. Decentralized Labor Market
Armstrong proposed the creation of a "global marketplace for labor" that uses crypto to pay people across borders. He said cthe low-cost cross-border payments facilitated by cryptocurrency could enable people worldwide to earn income more efficiently.
Selkis replied: "This is related to my personal number one, onchain payroll."
"In fact, if I had known this still wouldn't be a solved problem, I would have started this company and not Messari in 2017," he added. "I am shocked it hasn't been built yet."
6. Layer-2 Privacy
There is a clear need to bring privacy to layer two transactions, Armstrong said, which includes major projects like Arbitrum (ARB), Optimism (OP), and Polygon (MATIC). The executive compared the upcoming transition it to the shift from HTTP to encrypted HTTPS online. He added that optional, pricier private transactions could gain mainstream appeal while avoiding misuse.
"Early and obvious needs here," Selkis affirmed.
7. True Peer-to-Peer
Armstrong suggested that a fully decentralized peer-to-peer exchange could be built on top of auditable smart contracts and be a great censorship-resistant solution for escrow, reputation, and dispute resolution.
"They always get shut down when centralized," Selkis noted. "We've had some false starts here, but it feels like the [infrastructure] can support this now."
8. Web3 Game Economies
Armstrong suggested on-chain games where users are able to truly own in-game NFT assets, creating persistent worlds with real economies.
Here Selkis expressed skepticism.
"I know this is big, but I just can't get excited for GameFi," he replied. "You can't torture me into getting excited about it, but I'm open to change my mind if there's something that is fun first, then financialized."
9. Tokenize Everything
Tokenizing real-world assets, the CEO said, could make markets more liquid by encoding standardized metadata. Putting debt on the blockchain could enable decentralized ratings and exchange, he added.
10. Network States
Invoking a concept most recently championed by Bitcoin entrepreneur Balaji Srinivasan, Armstrong said "network states"—the successor to today's "nation states"—could be run like decentralized autonomous organizations (DAOs). He called for the creation tools for governance, fundraising, access control, and services.
He closed his remarks with an invitation to attend the first-ever Coinbase Ventures Summit taking place in Malibu, Calif., in October.
"We'll bring together a small group of builders to discuss these ideas and others," he explained, calling out to people who "already have a startup, or would like to create one."
Stay on top of crypto news, get daily updates in your inbox.

>