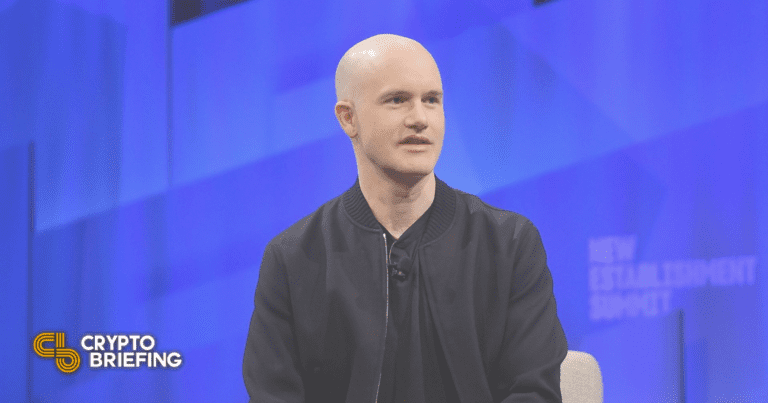 Key Takeaways
Coinbase CEO Brian Armstrong has voiced his opposition to the new infrastructure bill on Twitter.
Armstrong urged readers to contact their local senators to support a proposed amendment to the bill.
Coinbase usually avoids engaging in politics, however appears to be making an exception this time.
Coinbase CEO Brian Armstrong has taken to Twitter, voicing his opposition to the bipartisan infrastructure bill's "hastily conceived provision" on crypto assets. 
Coinbase CEO Opposes Bill Draft
Brian Armstrong is the latest figure in crypto to denounce the proposed infrastructure bill. 
In a 10 part tweet storm posted Wednesday, the Coinbase CEO laid out his thoughts on the new legislation, calling it a "hastily conceived provision" and explaining the bill's negative impacts in its current form. Armstrong also highlights an amendment put forward by Senators Ron Wyden, Pat Toomey, and Cynthia Lummis, calling on readers to contact their local senators and ask them to support the revision. 
9/ This will not happen without your elected reps hearing from you. Please contact your senators and ask them to support the amendment to the infrastructure bill proposed by @RonWyden, @SenToomey and @SenLummis (which gets us part way there by narrowing the definition of broker).

— Brian Armstrong (@brian_armstrong) August 4, 2021
The proposed infrastructure bill would enforce strict tax reporting obligations through its definition of a broker in its current form. The bill defines a broker as anyone who "effectuates transfers of digital assets." Under this definition, crypto miners and developers would need to report all crypto transfers to the IRS, which in many cases is impossible due to the decentralized nature of smart contract-based protocols. 
The amendment, supported by Armstrong, would limit the definition of a broker to entities with the ability to meet tax reporting obligations, such as Coinbase. It would also exclude developers and miners as they don't effectuate transfers of cryptocurrency themselves.
Armstrong also pointed out that the new bill imposes "unprecedented reporting requirements" that would surveil crypto users "in a way that is more intrusive than the rest of traditional finance." 
Armstrong has previously refrained from engaging in politics, proclaiming that Coinbase will not take sides on political issues as it disrupts focus on the company's goals. However, he also indicated that Coinbase might take a stance on issues that directly affect cryptocurrencies, and the new infrastructure bill appears to be one such case.
Disclaimer: At the time of writing this feature, the author owned BTC and ETH. 

>