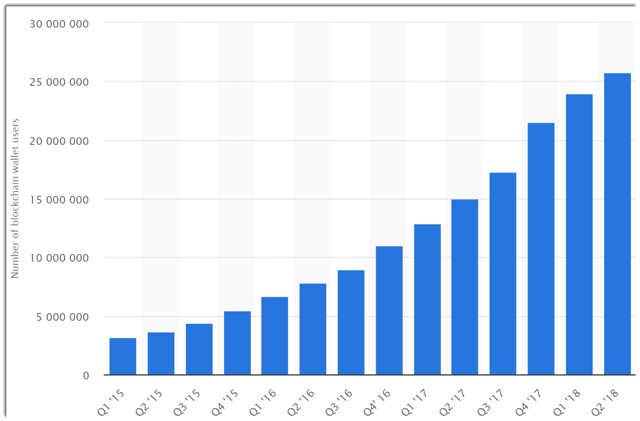 Quick Take
Coinbase (COINB) has announced the acquisition of Distributed Systems for an undisclosed amount.
Distributed Systems was developing as a crypto-centric digital identity startup and a full-stack machine intelligence company.
COINB is accelerating an aggressive acquisition strategy to build out its offerings in online identity, payment, and other cryptocurrency-centric Internet services.
Target Company And Market
The San Francisco, California-based company was founded in 2012 to build an identity standard for decentralized Apps [dApps] called the Clear Protocol.
Management was headed by Co-Founder and CEO Nikhil Srinivasan, who was previously a researcher at the Church Lab in Harvard Medical School.
Investors invested $1.7 million in the company and included FLOODGATE and Dorm Room Fund.
According to a market research statistics by Statista, the total number of blockchain wallets has grown from about 3.2 million in the first quarter of 2015 to about 25.8 million in the second quarter of 2018.
Growth has been dramatic, as the graphic below shows: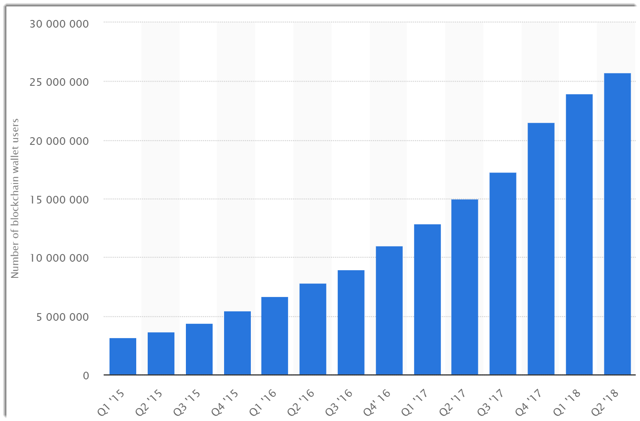 Acquisition Terms and Rationale
Coinbase didn't disclose the acquisition price or terms and didn't file any regulatory documents.
Coinbase acquired Distributed to jumpstart its efforts to create a decentralized identity system that it can distribute to websites, similar to Facebook's (FB) Login with Facebook authorization system.
As Coinbase stated in the deal announcement,
Blockchain technology that powers cryptocurrencies offers a new way to let us all be 'verified' everywhere we go on the internet, feeling safer about our interactions with others and opening the door to the experiences that require trust.
With the Distributed deal, Coinbase wants to be the firm that provides that 'verification' service in a decentralized fashion.
Coinbase has been active on the acquisition front, especially since hiring Emilie Choi in March 2018. Choi reportedly spearheaded over 40 transactions while at her previous position at LinkedIn.
I previously wrote about another Coinbase acquisition in May, 2018, Coinbase Acquires Paradex For Decentralized Token Exchange.
In that piece, I referred to the firm's increasingly aggressive acquisition activity. Since Choi's hiring in March 2018, COINB has closed on seven acquisitions, as the table below indicates:

(Source: Crunchbase)
In a related development, within the past year, Coinbase had launched its Commerce cryptocurrency merchant payment processing system with initially challenging results due to technical problems.
The firm later relaunched its service and recently announced new features and integration with popular WooCommerce.
It appears Coinbase management is pursuing multiple approaches to developing and spreading its cryptocurrency transaction and identity capabilities. By adding identity verification to its arsenal, Coinbase is taking a play right out of Facebook's playbook.
Enabling websites to utilize its identity function will serve to naturally create an initial connection between those websites and Coinbase. The firm can then capitalize on this connection, along with the data.
With its Commerce and other initiatives, which may include communications and other critical aspects of consumer adoption, Coinbase is positioning itself to be a 'Facebook' of sorts to the blockchain Web.
I expect to see more acquisitions by Coinbase as the firm expands and diversifies its offerings from its original fiat-to-crypto onramp to decentralized payment processing, online identity and other functionalities in the blockchain-centric Internet.
Thanks for reading. I focus most of my time on IPOs. If you're interested in investing smarter in IPOs, you should check out IPO Edge.
Disclosure: I/we have no positions in any stocks mentioned, and no plans to initiate any positions within the next 72 hours.
I wrote this article myself, and it expresses my own opinions. I am not receiving compensation for it (other than from Seeking Alpha). I have no business relationship with any company whose stock is mentioned in this article.

>