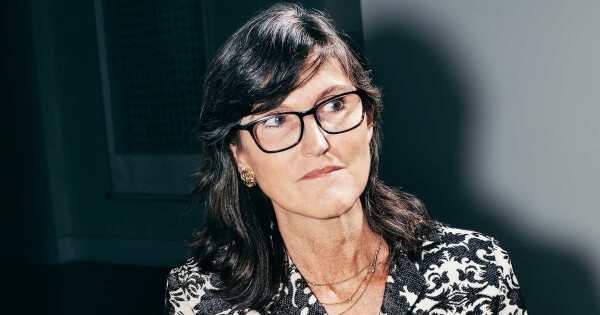 Cathie Wood, Chief Investment Officer and Portfolio Manager at ARK Investment Management LLC, has hypothesised that the United States Securities and Exchange Commission (SEC) would approve many spot Bitcoin ETFs all at the same time.
During an interview with Bloomberg on August 7, 2023, Wood, who has over 40 years of experience and started ARK in 2014, provided this significant prediction. The conversation took place in 2023.
An application for a spot Bitcoin exchange-traded fund was submitted by ARK Investment Management in June of 2023. ARK Investment Management is well-known for its focus on disruptive innovation, and the firm submitted the proposal.
The growing interest from major financial firms like BlackRock, Fidelity, WisdomTree, VanEck, and Invesco, all of which have submitted applications for spot Bitcoin ETFs similar to ARK's, reflects a broader trend in the market.
Grayscale, a prominent digital currency investment authority founded in 2013 by Digital Currency Group, is currently engaged in legal proceedings with the SEC. Holding assets including BTC, ETH, ETC, MANA, SQL, and BCH, the company sent a letter to the regulator in July, urging simultaneous approval of all proposed spot Bitcoin ETFs. This request was made to promote fairness among applicants and prevent any single ETF from gaining an advantage. 
The SEC has until August 13, 2023 to make a judgement on ARK's petition; so far, the agency in the United States has never granted its approval to a spot cryptocurrency ETF. ARK is proposing to list its shares in an exchange-traded fund (ETF).
The regulatory body in charge of the sector has a maximum of 240 days, which brings the deadline for their decision forward to January 2024.
Because regulators in other countries, most notably Canada, have in the past allowed analogous spot ETF filings from bitcoin firms, the drive for spot Bitcoin ETFs is gathering momentum. The demand for spot Bitcoin ETFs receives a further boost as a result of this.
The prediction of simultaneous approval made by Wood and the campaign for fairness made by Grayscale both bring to light the possibility of a shift in the regulatory atmosphere for bitcoin exchange-traded funds (ETFs) in the United States. 
Image source: Shutterstock

>