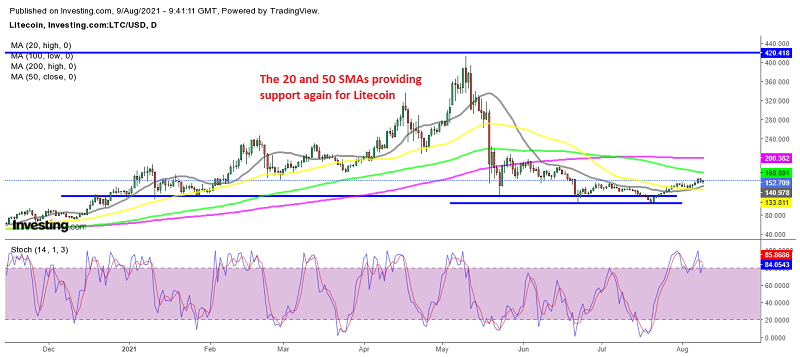 Judging by the price action of the last few weeks in cryptocurrencies, we can say that they survived one of the biggest crashes in history, the second one after the crash in early 2018. The decline stopped earlier in the crypto market, with most cryptocurrencies trading higher since the third week of July, showing a bullish price action since then.
They are not out of trouble yet, with the crackdown in China and the regulation that has been implemented by different governments around the world. But, the signs on the larger time-frame charts showing that buyers are in control now.
LTC/USD
Litecoin Analysis – LTC/USD Daily Chart
On the daily time-frame chart above, we can see that moving averages have been defining the trend for cryptocurrencies, meaning they have provided support during periods when the trend has been bullish, and they have turned into resistance when the price was declining. in recent weeks, moving averages are turning into support again, which implies that buyers are in control.
On the daily chart above, we see that the 50 SMA (yellow) was acting as the ultimate support in the first 4-5 months of this year, when the trend was extremely bullish. When the crash came and the trend turned bearish, the 20 moving average (gray) turned into the ultimate resistance. But, the price bounced off the support at $105 last month, pushing above the 20 and the 50 SMAs which turned into support in the previous week.
We see that the price was sliding lower as LTC/USD was retreating, but the 50 SMA was standing still as support, while the bounce came once the 20 SMA caught up on this chart. This suggests that buyers are getting increasingly confident, buying the retraces at the smaller moving averages.
Litecoin Analysis – LTC/USD H4 Chart
Litecoin bouncing off the 50 SMA
On the H4 chart, we see that moving averages turned into support as soon as they were broken to the upside. The 50 SMA (yellow) turned into support once it was broken, then the 200 SMA (purple) took its turn in the last week of July and now the 20 SMA and the 50 SMA are acting as support.
Yesterday we saw a retreat on the H4 chart, but the 50 SMA held as support and today Litecoin has bounced off that moving average, after printing a low of $145 on my crypto broker's platform. Now, the price is around $8 or 800 pips higher, so buyers are in control again and still pushing higher. We missed the opportunity to go long, since the bounce was pretty fast and took place overnight, but we are waiting for another retrace lowe to one of the moving averages so we can go long on LITECOIN .

>