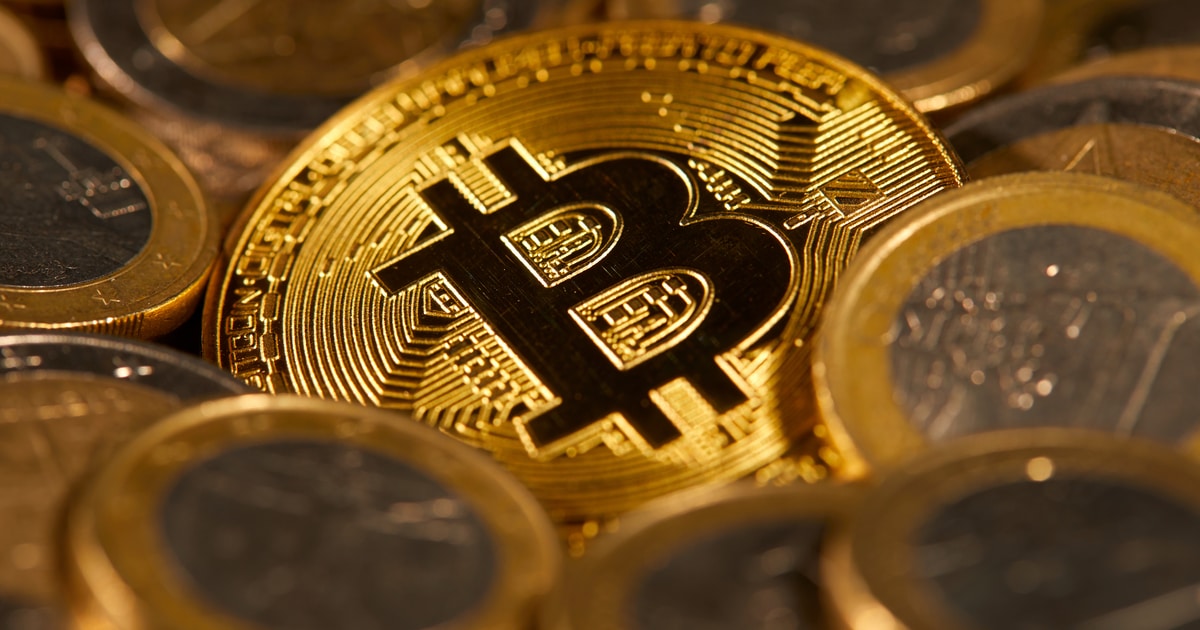 Things turned south for Bitcoin (BTC) miners in May as China intensified crackdowns on this sector. Even though miners have found the right footing by relocating to other areas like the United States, the eighth consecutive difficulty is being witnessed.
On-chain analyst Rafael Schultze-Kraft explained:
"Bitcoin mining difficulty increased by 7.8%. It is the 8th consecutive difficulty increase since China's ban and the great hashrate migration."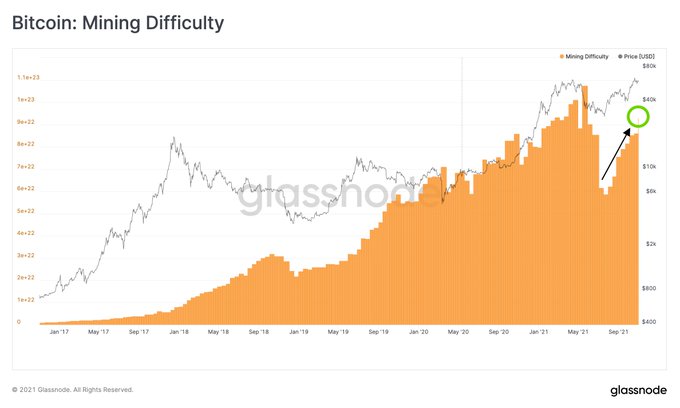 This is bullish because mining difficulty prompts a supply squeeze, and if demand rises, the price is expected to increase. 
Bitcoin mining continues to be unwelcome on Chinese soil. For instance, Chinese authorities disconnected BTC mining sites in Sichuan in June. As a result, more than 90% of China's crypto mining capacity was hampered.
However, this has emerged to be a blessing in disguise because most Bitcoin mining has shifted to the United States. 
Is Bitcoin experiencing the calm before the storm?
After scaling the heights to hit a new all-time high (ATH) price of $66,900 on October 20, the leading cryptocurrency has experienced a pullback. Bitcoin was hovering around $61,505 during intraday trading, according to CoinMarketCap.
Jan Wuestenfeld believes that something is cooking because the 7-day moving average of active BTC addresses is gaining momentum. The on-chain analyst acknowledged:
"The 7-day moving average of the number of active Bitcoin addresses has calmed down in the last few weeks. It is picking up again but still below levels seen this year. Is this the calm before the storm?"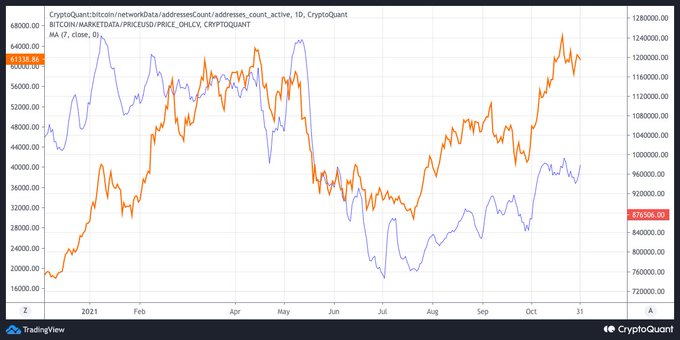 Meanwhile, the fast-food chain Burger King has started an initiative to give away cryptocurrency worth more than $2.5 million.  
The reward will be from a pool of 20 Bitcoin, 200 Ether, and 2 million Dogecoin if customers spend more than $5 on the restaurant's chain app.
Burger King pointed out that this move was prompted by the urge to reward its most loyal clients with exclusive offers that are exciting, unique, and culturally relevant. Therefore, cryptocurrency being a hot topic of conversation, it was prudent to take this route.
Image source: Shutterstock

>