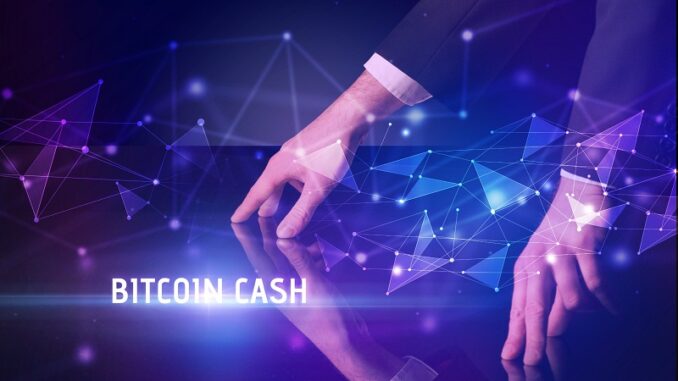 Bitcoin Cash (BCH) remains resilient, trading at $231.43 from a recent low of $203.
The BCH price surge is pegged on Bitcoin's performance and ETF hopes.
BCH's technical analysis indicates a symmetrical triangle pattern, hinting at an imminent price move.
Cryptocurrency enthusiasts and investors are closely monitoring the price movements of Bitcoin Cash (BCH) as it continues to show resilience in a volatile market. Additionally, the blockchain-based social betting platform, Chancer, is making waves with its upcoming presale.
In this article, we will delve into the current state of BCH and explore the innovative features of Chancer, a revolutionary decentralized betting platform currently in its token presale phase.
Bitcoin Cash price analysis
Bitcoin Cash (BCH) has exhibited remarkable stability despite recent turmoil in the financial markets.
At press time, BCH was trading at $230.91, up 8.58% over the last 24 hours. This is a notable rebound from this month's low of $180 and it has intrigued many investors, especially as traditional assets like stocks and bonds experience significant fluctuations.
It's essential to note that Bitcoin (BTC) plays a pivotal role in BCH's performance. On that note, BTC has managed to maintain a price above $26,000, even as the market sentiment has shifted towards fear, with the fear and greed index plummeting to 34. The optimism surrounding the potential approval of Bitcoin ETFs by the Securities and Exchange Commission (SEC) has contributed to the buoyancy in Bitcoin's price. If approved, this could pave the way for other cryptocurrencies, including BCH, to seek ETF applications.
However, there are looming risks in the crypto industry, with the Federal Reserve taking a hawkish stance due to stubbornly high inflation. Recent data indicates that inflation surged to 3.7% in August. Such macroeconomic factors can impact the broader cryptocurrency market, including BCH.
Bitcoin Cash price forecast
A technical analysis of BCH on the daily chart reveals an intriguing pattern: a symmetrical triangle. This pattern is characterized by two converging trend lines and typically indicates an imminent breakout or breakdown.
Currently, Bitcoin Cash (BCH) has positioned itself above both the 25-day and 50-day moving averages, which is seen as a positive sign. Additionally, it hovers around the 50% Fibonacci Retracement level, suggesting a balanced market sentiment. The Moving Average Convergence Divergence (MACD) has crossed above the neutral point, indicating bullish momentum.
In the event of a bullish breakout, the key resistance level to monitor is $240. On the flip side, the support level stands at $180. Traders and investors are closely eyeing these levels as BCH appears poised for a decisive price move.
CHANCER token offering an alternative to the likes of BCH
While BCH and BTC are common digital assets to most crypto investors, a new token namely CHANCER, is making waves as its presale hit $2,354,540.
One CHANCER token is currently going for $0.012 but is expected to rise to $0.013 in the next presale stage, which is a great proposition for those yearning to acquire the new gaming token.
How does Chancer work?
In the world of blockchain and cryptocurrency, innovation continues to drive the evolution of various industries. Chancer is an exciting project that exemplifies this spirit. This blockchain-based platform is dedicated to social betting, allowing users to create and participate in unique and imaginative bets.
Chancer encourages users to engage in social betting, where they can craft their bets and invite others to join in. This dynamic approach aims to transform traditional betting into a community-driven and interactive experience.
Chancer offers an array of betting opportunities, from predicting the winners of esports tournaments to speculating on whether a favourite band will release a new album. This diversity caters to a broad spectrum of interests, making it an inclusive platform for all.
The platform incorporates live streaming, enabling users to create bets and initiate live streams for others in the Chancer community to join. This real-time interaction enhances the overall betting experience.
Chancer operates on a decentralized and transparent blockchain, ensuring fairness and openness in all betting activities. Users can have confidence in the integrity of the platform.
Conclusion
As the cryptocurrency market remains dynamic, Bitcoin Cash (BCH) stands out with its recent price resilience. Technical analysis indicates that BCH could be on the verge of a significant price move, with $240 as a key resistance level to watch. However, macroeconomic factors, particularly the Federal Reserve's monetary policy, introduce potential risks.
In parallel, Chancer's innovative approach to social betting has captured the attention of the crypto community. With its focus on user engagement, diverse betting options, live streaming, and blockchain transparency, Chancer aims to revolutionize the world of betting.
Investors and enthusiasts alike are keeping a close eye on both Bitcoin Cash and Chancer, as they represent exciting opportunities and developments in the cryptocurrency space. It's essential to conduct thorough research and stay informed to make informed decisions in this ever-evolving landscape.

>