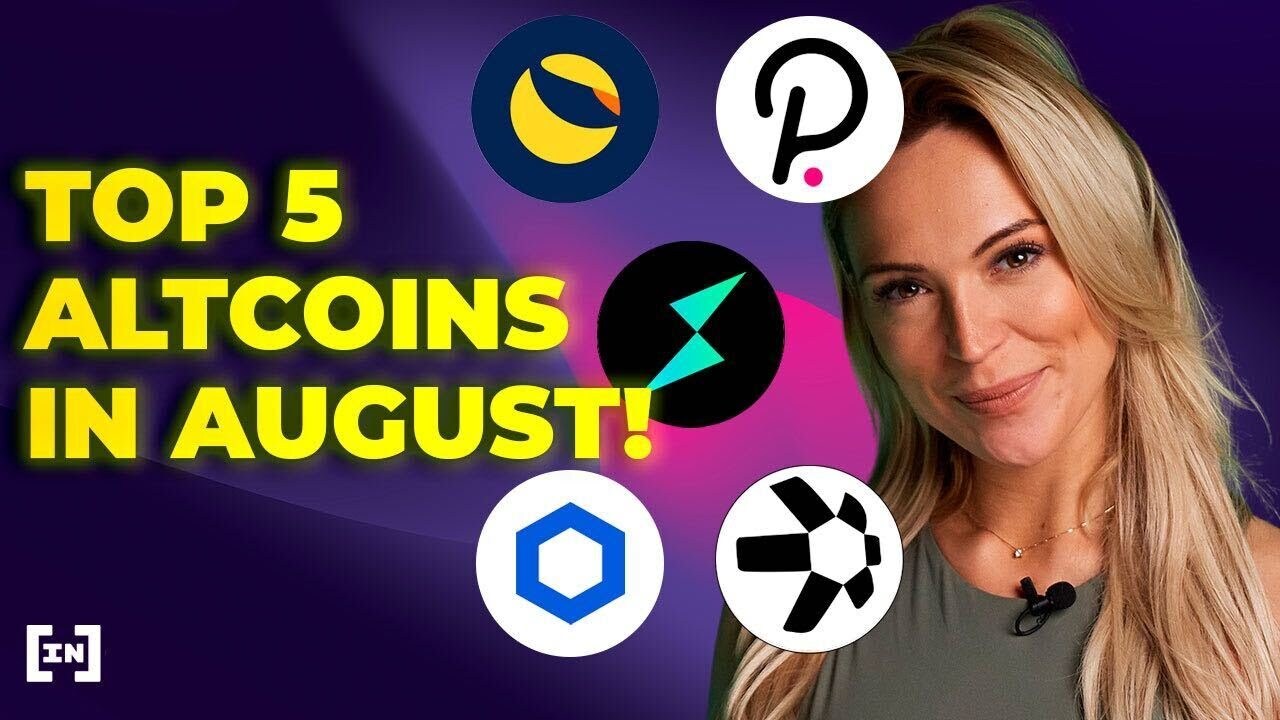 In this episode of the BeInCrypto video news show, host Jessica Walker takes a look at our pick for the top 5 altcoins of August. We will discuss updates for each platform and analyze recent price movements.
Polkadot (DOT)
Polkadot is first on our list of top altcoins. DOT registered a staggering 13.2% gain overnight as prices rallied owing to broader market stability. At the time of recording, DOT stood at $18.74. A slight push from the bulls would have the token test its resistance level of $19.69. In case prices retrace, the support region for DOT can be marked at $16.77 and then at $15.76. Market volatility remained high and after a 40% surge over the last ten days or so, this could herald more upside in August.
This most recent jump isn't fueled only by the recovery in the broader market. There have been several very positive developments around the project with its first decentralized exchange launched by Karura, the decentralized finance (DeFi) network of the Acala Foundation. Progress on parachains has also been reported, and we could see some hype after they are officially announced.
Chainlink (LINK)
Number two is Chainlink. After initial hype in 2020, Chainlink has been generally unable to recapture the same levels of enthusiasm in 2021, but it has gained 20% in the last week.
Something that makes Chainlink a very powerful tool is its oracle contracts. It gives economic incentives to those running them and the responsibility to be accurate and reliable. This is because the reputation of each oracle is stored on a public blockchain. This potentially attracts high-quality node operators to the network. These incentives will motivate them to build a reputation on the Chainlink network.
It's broken through several resistances that were set over the last months and momentum could keep it going in the next weeks. 
We also think this is one to watch especially in August, with the Smart Contract Summit, aka SmartCon, Chainlink's largest event of the year scheduled to run from August 5 to 7.
Terra (LUNA)
Next up is Terra. With a 30% jump this week here we have a crypto which stablecoin fans have known about for a while. They have a unique way to mint stablecoins pegged to fiat currencies.
Some of the major developments for the Terra ecosystem include the launch of Mirror V2, the addition of Terra farming opportunities on Dfyn, and the listing of LUNA on the Crypto.com exchange. Another important bit of news was the partnership with the Harmony protocol. This represents another confirmation of the demand for stablecoins and their role in the future of cryptos and DeFi.
The chart shows we are at an interesting point in this recovery. The price is trying to break above a resistance set in mid-April, as well as the downtrend line since late March. A consistent move above these two could signal another large surge upward.
As a final note, we have to include that lately there have been rumors of more stable regulation from central banks. That could pose a risk for Terra in the long run, but right now all we're seeing here is potential.
Quant (QNT)
At number four we have a crypto for which we can use a phrase that we haven't for quite a while on our channel – here is a crypto that just hit an all-time high! 
Quant network has one main goal, to provide seamless interoperability between distributed ledger technologies (DLTs). DLTs are just distributed databases and blockchains like Ethereum and Bitcoin are a subset of DLTs. Public health operations, large corporations, banks and even central governments are starting to move to DLTs over regular databases. The issue arises when all these different entities are using different DLTs and need to send information between each other. Quant's flagship Overledger OS bridges the gaps.
The Quant token was trading at about $95 two days ago, and it shot up to its all-time high of $187. It skyrocketed from about $12 at the beginning of the year to $90 by the end of June. Although, it's difficult to determine if today's price action will hold. However, if Quant gains further widespread adoption, it could easily succeed. The main reason Quant was up massively is because of its new listing on Binance Exchange, announced on July 30. This one will very likely see sharp moves in both directions during August, but it's definitely one to watch! 
THORChain (RUNE)
Last on our list is THORChain. There's been a lot of back and forth for this project in recent days. There were two attacks in the space of two weeks, with the latest hack costing about $8 million in Ethereum. Only a week before that, the protocol's ETH liquidity providers suffered losses of about $5 million dollars in similar circumstances. The protocol was also hit by an incident in late June, though that time the losses amounted to only $140,000 dollars.
After the latest incident, THORChain confirmed that it would halt its network chain and conduct additional security audits. The team even hosted 20 white hat hackers for a THORChain "code walkthrough." All the measures seem to have done the trick and the token is up 64% in the last week.
Disclaimer

All the information contained on our website is published in good faith and for general information purposes only. Any action the reader takes upon the information found on our website is strictly at their own risk.

>