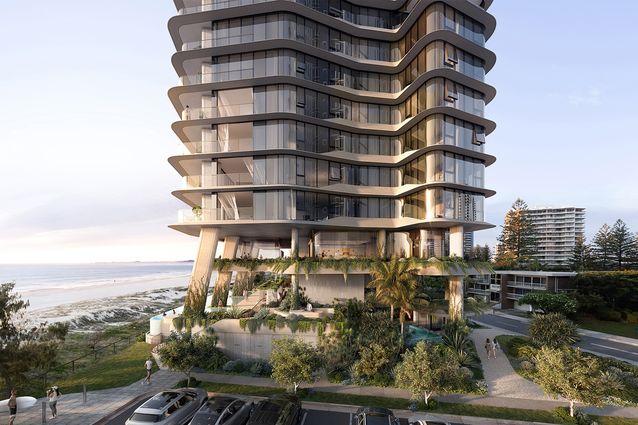 A development application has been approved for a Conrad Gargett-designed, 38-storey beachfront apartment complex submitted to council last year.
The Gold Coast high-rise will be located on Garfield Terrace in Surfers Paradise, right on the sands of Northcliffe Beach, and will feature an open podium design that engages with the natural elements.
Conrad Gargett director John Flynn said the building's soft-edge form combined with organic landscaping will create a sense of "openness" and harmoniously blend with the natural rolling dunes of the site.
"The original landscape of the ocean, beach and dunes, continuing through to the waterways, has been broken over time by buildings," Flynn explained. "So by lifting the tower up off the ground, we've been able to create greater transparency, which has been one of our key design moves."
Inspired by "longshore drift", or the natural movement of drifting sand and water along the coastline, the building's form is intended to respond to the ripples and deep recesses that occur in the sand as a result of the tides.
Raw and natural materials, such as concrete, stone and timber finishes, are intended to help the tower to sink into the natural landscape, while also providing a sturdy foundation to withstand the onshore elements.
The tower will feature resort-style amenities, including wellness spaces, a bar and a pool. It will house a mix of one-, two-, three-, four- and five-bedroom apartments, including half- and full-floor apartments with expansive outdoor living spaces.

>