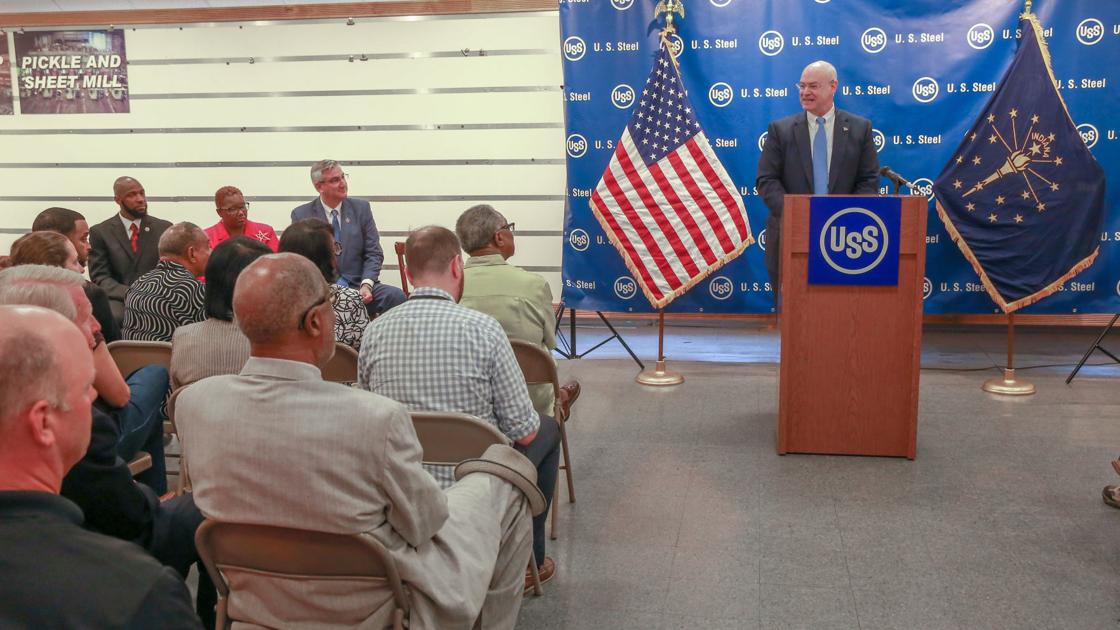 U.S. Steel has unveiled more details about its planned $750 million investment in Gary Works over the next five years, in what's being hailed as a renaissance of the largest integrated steel mill in North America that will be felt in Northwest Indiana for years to come.
For one, the Pittsburgh-based steelmaker could end up pumping even more money than initially announced into "critical steelmaking facilities" at its flagship mill in Gary, which has stretched across seven miles of Lake Michigan shoreline since it was constructed in 1906.
"This announcement is a minimum commitment. As we deploy the $2 billion asset revitalization program in our North American flat-rolled facilities, the amount could very well grow," U.S. Steel spokeswoman Amanda Malkowski said. "The investment covers a wide range of assets, and hundreds of projects, with a strong emphasis on seven critical assets: the four blast furnaces, the steel shop, the casters and the hot strip mill."
With steel prices over $900 a ton, U.S. Steel hopes to complete years of modernization projects without disrupting output at its largest mill, which has a capacity of 7.5 million tons a year.
"This is a complex effort that will be marshaled over a period of years with individual projects of varying size performed by both internal expertise and external contractors — all timed to minimize impact to production," Malkowski said. "This is a major modernization at Gary Works, with investments focused on improving reliability, throughput, quality, cost and capability."
The massive investment would not add any new jobs beyond temporary work for contractors but would help preserve the 3,875 good-paying steelworker jobs at Gary Works.
"This news couldn't have come at a better time as we continue to persevere in the progress of our great city," Gary Common Council President Ronald Brewer said. "This multi-million dollar investment demonstrates U.S. Steel's renewed commitment to its workers and to the city of Gary, and we look forward to strengthening this relationship for the betterment of our great community."
U.S. Steel turned just its second annual profit in the last eight years last year as market conditions improved after a huge downturn in the steel industry that led to thousands of steelworker layoffs nationwide, including U.S. Steel's decision to give pink slips to 25 percent of its nonunion staff.
But prices have rebounded, especially after the Section 232 tariffs of 25 percent have raised the price of cheap foreign steel. 
The company decided to invest $2 billion in modernizing its operations, after parting ways with former CEO Mario Longhi, who was widely faulted for putting off maintenance and capital investments, which left U.S. Steel unable to capitalize off rising steel prices. The steelmaker, one of Northwest Indiana's largest employers, posted a stunning, unexpected $180 million loss in the first quarter of last year, at a time when market conditions were finally favorable again, leading Longhi to step down shortly after.
Current U.S. Steel CEO David Burritt pledged not to make the same mistake and visited Gary Works last week to hail a massive investment expected to bring about the mill's revival.
"The city of Gary and U.S. Steel have had a partnership for well over one hundred years," state Sen. Eddie Melton, D-Gary, said. "The investment that the company announced today represents a continuation of that partnership for many years to come. The announced renovation and expansion of Gary Works will have far-reaching benefits, not only for the company, but for the employees, the City of Gary, the Region and the entire state."
At a time when a dwindling number of integrated steel mills are still cranking out metal in the United States, the investment bodes well for the longevity and stability of Gary Works, said state Sen. Lonnie Randolph, D-East Chicago.
"U.S. Steel's announcement to invest $750 million in the Gary Works facility is a reaffirmation of a commitment made 110 years ago," he said. "Declaration is a promise to be around for another century."
Though it no longer employs anywhere close to the 30,000 steelworkers it once did, what's good for Gary Works is good for Northwest Indiana, state Sen. Frank Mrvan, D-Hammond, said.
"I am extremely happy that the steel industry is alive and well in Northwest Indiana," Mrvan said. "This announcement will ensure that steel production will have a major presence in this part of the state for many more years. The continuing impact of investments such as this at Gary Works, will ripple throughout the Region."

>