 After some of the largest US companies released strong quarterly earnings results during the past few weeks, investors are now shifting focus to macroeconomic fundamentals. 
Stocks rallied on Friday after a better-than-expected increase in US for the month of October as job growth accelerated, fueling optimism about the economic recovery. The rose for its seventh straight day and all three major averages—which includes the and —reached respective record closing highs.
Should this pace of employment continue, it could bode well for corporate earnings in the final quarter of the year, something that has helped propel stocks to record highs.
Amid this positive environment for stocks, below is our list of three significant earnings announcements, scheduled for the week ahead, that could provide some insight into how companies foresee the coming months, especially when some experts are calling for an end to the pandemic in the first quarter of 2022, at least in the US:
1. Coinbase Global
Coinbase (NASDAQ:), the US's largest cryptocurrency trading exchange, will release its third quarter earnings on Tuesday, Nov. 9, after the market close. Analysts, on average, expect the company to report $1.73 a share profit on sales of $1.57 billion.
Since its initial public offering in April, shares of Coinbase have been extremely volatile, often moving in sync with the cryptocurrency markets. Coinbase's is built almost entirely on the performance of and .
These have been attracting significant inflows after two exchange traded funds—ProShares Bitcoin Strategy ETF (NYSE:) and Valkyrie Bitcoin Strategy ETF (NASDAQ:), both tracking , started last month.
The ETF launches generated a lot of excitement regarding Wall Street becoming more accepting of crypto assets, and helped pave the way for further applications for similar exchange-traded products. Coinbase stock closed on Friday at $337.05, up almost 40% during the past one month and sharply higher from its September lows.
2. The Walt Disney Company
Disney (NYSE:) reports earnings for its fiscal 2021 fourth quarter after the closing bell on Wednesday, Nov. 10. Analysts are expecting $18.8 billion in sales and $0.52 profit per share.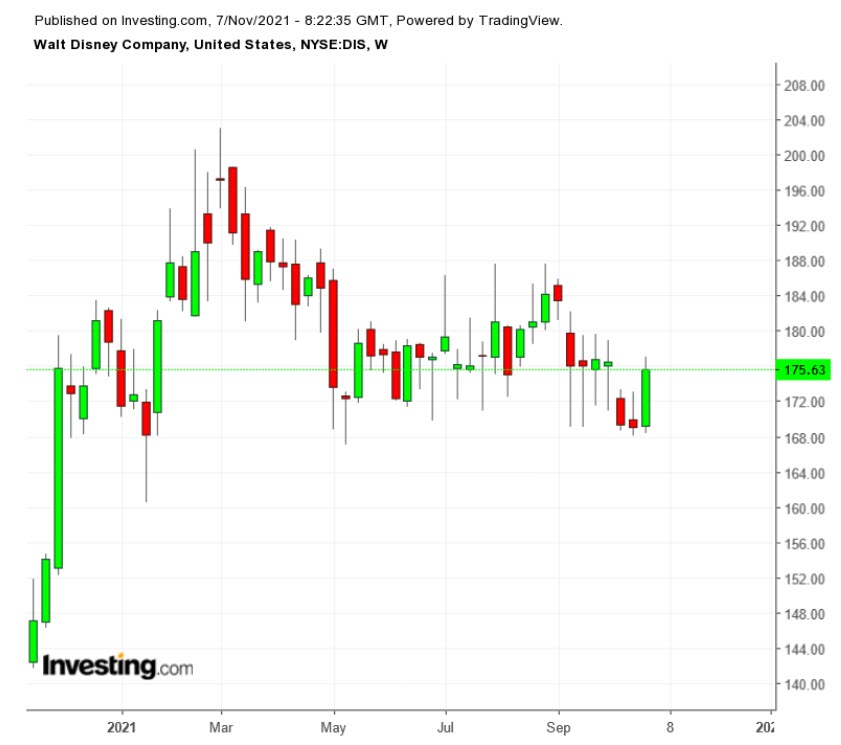 Disney stock has been underperforming this year, as the House of Mouse faces a variety of obstacles to achieving in the post pandemic environment. Chief Executive Officer Bob Chapek told an audience in September that the company will have fewer new Disney+ users than analysts have been expecting for the fiscal 2021 fourth quarter ending Oct. 3.
"The quarter-to-quarter business is not linear," Chapek said, speaking at a Goldman Sachs virtual conference, adding:
"We're very bullish and confident about our long-term subscriber growth, but we're going to see a little bit more noise than I think maybe the Street expects."
Shares of Disney have fallen more than 6% this year, underperforming when compared with the company's closest rival, Netflix (NASDAQ:) whose stock has gained 19% during the same period. Shares of DIS closed on Friday at $175.63.
3. PayPal Holdings
Payment processing giant PayPal (NASDAQ:) is scheduled to report third-quarter earnings on Monday, Nov.8, after the markets close. Analysts, on average, expect the company to post $1.07 a share profit on sales of $6.23 billion.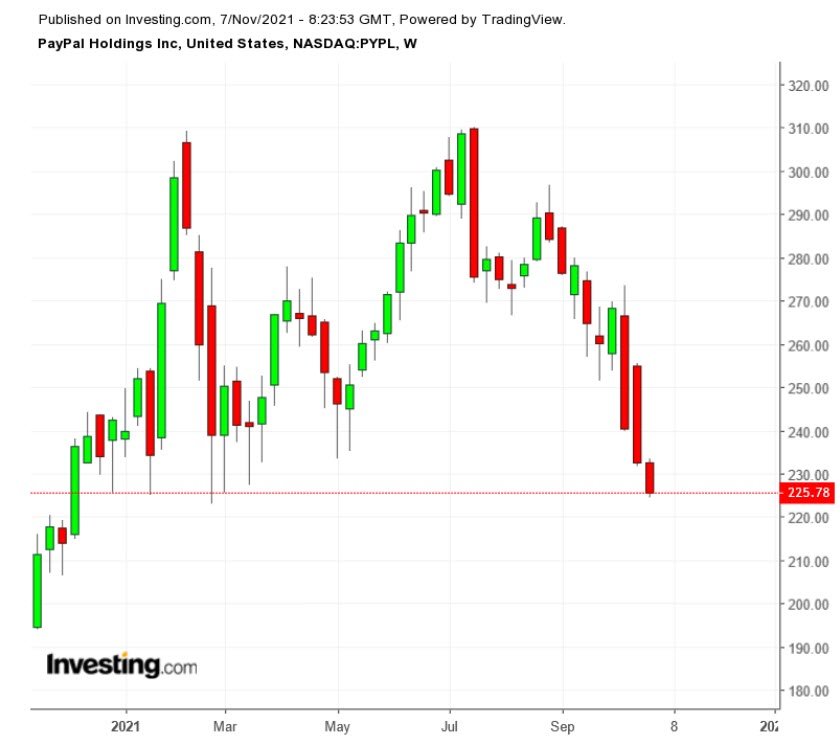 CEO Dan Schulman has already warned investors that the last quarter would be a because of PayPal's final separation from eBay (NASDAQ:). PayPal has been battling the loss of eBay, its former parent company, ever since the two decided to end their longtime partnership in 2018.
"We've always known that eBay is going to move their managed payments away from PayPal, it's a matter of timing," Schulman told Bloomberg in July. "That's happening faster than we anticipated."
Shares of the company closed on Friday at $225.78, after falling about 20% in the past three months.

>