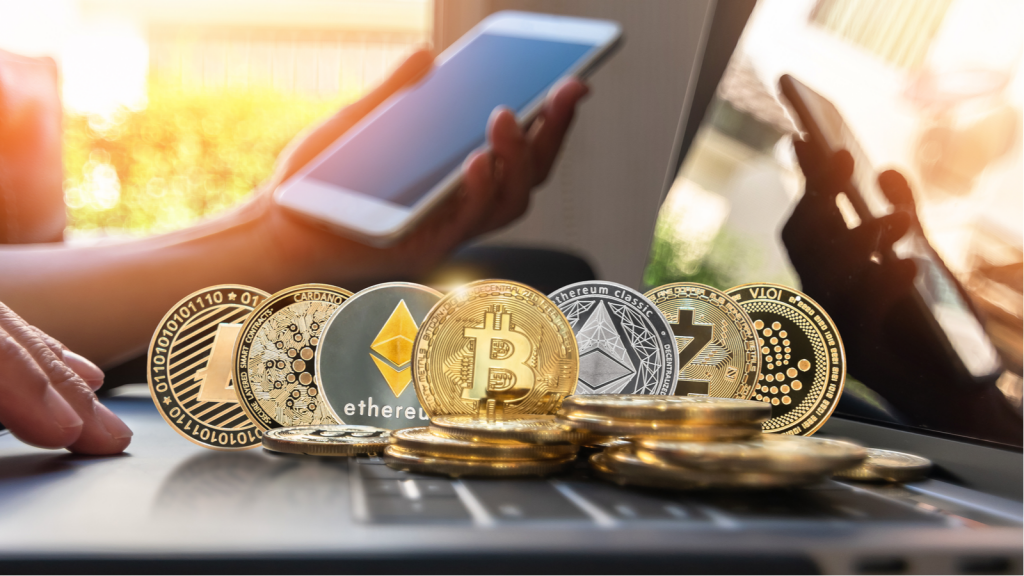 These three top tokens may be cryptos to buy as we head into what could be an eventful, yet volatile, May.
Bitcoin (BIT-USD): Perhaps this is the safest crypto investment.
Dogecoin (DOGE-USD): Free token promotion, multiple features and projects are on the way.
Ethereum (ETH-USD) It provides perhaps the most impressive crypto ecosystem.
The steady growth of the crypto sector over the past few years caught the eyes of institutional investors more than any other. Indeed, 2021 was a pretty eventful year for top cryptocurrencies, with El Salvador adopting Bitcoin (BTC-USD) as legal tender and China banning all crypto transactions.
Enter 2022.
It's been a rough start to the year, to be sure. However, as we approach May, there are many opportunities in the crypto market investors are starting to get excited about. The regulatory environment is changing (some believe in a positive way). And crypto investors continue to remain adept at focusing on growth catalysts at the expense of near-term headwinds. These are all positives for this space.
However, there are three cryptos that I think have more potential to outperform the broader market as we head into May. Let's dive into why investors may want to put these three tokens on their watch list right now.
| | | |
| --- | --- | --- |
| Ticker | Cryptocurrency | Current Price |
| BIT-USD | Bitcoin | $39,639.29 |
| DOGE-USD | Dogecoin | $0.139558 |
| ETH-USD | Ethereum | $2,921.26 |
Top Cryptos to Buy: Bitcoin (BTC)
Bitcoin has overcome most of its skeptics over the course of 13 eventful years. Sure, the history of Bitcoin has been storied. Like all digital tokens, the world's largest by market capitalization hasn't been immune to volatility.
However, over the long-term, Bitcoin has proved time and again this is one token that should not be underestimated. With a market capitalization of more than $760 billion at the time of writing, Bitcoin stands heads and shoulders above the rest of the market.
However, the competition is picking up steam. Some investors believe that new higher-utility tokens may be in, with Bitcoin on its way out. Hence, this is one token that's been under pressure for some time.
Some investors have questioned Bitcoin's status as "digital gold" or a safe haven. Indeed, in these recent volatile times, this has not been the case.
That said, Bitcoin is among the most secure cryptocurrencies in the market. Additionally, the size and scale of the Bitcoin ecosystem is impressive. Institutional money has flowed to this top crypto unlike any other token on the market, for a reason. Accordingly, many long-term investors continue to ascribe to the idea that Bitcoin has much more room to run.
While the market debates Bitcoin's real value, crypto enthusiasts and hedge fund managers continue to pile in. If investors believe crypto has a place in the market long-term, big money is likely to continue this trade. Thus, for those following the money, Bitcoin will certainly be an intriguing token to watch as we head into May.
Dogecoin (DOGE)
Dogecoin (DOGE-USD) is one of the first and most prominent meme tokens in the market. Accordingly, many view this token as a speculative trading vehicle. That argument is hard to disagree with – there's certainly a lot of speculation that's needed to invest in something like Dogecoin.
That said, Dogecoin does have one major catalyst that may warrant some serious speculative buying in May. That catalyst is Elon Musk's recent take-private deal for Twitter (NYSE:TWTR).
Dogecoin is a token that's previously lived and died by Elon Musk's tweets (or lack thereof). With a take-private deal all but done (there are regulatory hurdles which will need to be overcome), Twitter is Musk's playground now. Accordingly, investors right now feel confident to speculate that more Dogecoin pumping could mean more price appreciation, at least in the near term.
Personally, I don't think there's a lot behind the Dogecoin token. Long-term investors may take that as they like. However, from a speculative standpoint, this is a fun token to watch from the sidelines. For many traders, this is a pivotal moment, and May is shaping up to be a fun month from a volatility perspective.
Top Cryptos to Buy: Ethereum (ETH)
Ethereum (ETH-USD) provides perhaps the most impressive crypto ecosystem out there. This smart contract-enabled blockchain is the foundation upon which most decentralized applications are built. Accordingly, those bullish on NFTs and other utility-creating projects may already like Ethereum or be invested in this token.
The second-largest cryptocurrency by market cap, Ethereum's valuation is derived from the size of its ecosystem. Thus, how fast the crypto market grows as a whole directly affects this token's valuation. For those bullish on a resurgence of growth in May and beyond, Ethereum poses an interesting bet.
These past few months have been plagued by a number of scandals, hacks, and macro headwinds which have hurt Ethereum's valuation. However, later this year, Ethereum is expected to undergo the all-important "Ethereum merge." This involves the combining of the beacon chain (Ethereum's proof-of-stake chain) with its mainnet. In doing so, Ethereum will become a true proof-of-stake network, which is much better for environment and for this blockchain's growth prospects.
Accordingly, much of the excitement around Ethereum right now is tied to this merge. While the merge has been delayed from a date which was speculated to be June to sometime later this year, investor hype continues to remain high. Accordingly, this is a top token on my watch list for May.
On the date of publication, Chris MacDonald owns Ethereum. The opinions expressed in this article are those of the writer, subject to the InvestorPlace.com Publishing Guidelines.

>