 US stocks ended higher on Friday, with the benchmark scoring its best weekly performance since June thanks to a strong start to the third quarter earnings season on Wall Street.
The week ahead is expected to be another busy one as earnings shift into high gear, with reports anticipated from some of the big-name U.S. technology companies, including Tesla (NASDAQ:), Netflix (NASDAQ:), IBM (NYSE:), Intel (NASDAQ:), and Snap (NYSE:).
Also reporting are a variety of blue chip mega-caps such as Johnson & Johnson (NYSE:), Procter & Gamble (NYSE:), and American Express (NYSE:), as well as travel sector stalwarts including United Airlines (NASDAQ:), American Airlines (NASDAQ:), and Southwest Airlines (NYSE:).
Regardless of which direction the market goes, below we highlight one stock likely to be in demand in the coming days and another which could see fresh losses.
Remember though, our timeframe is just for the week ahead.
Stock To Buy: Coinbase Global
Shares of cryptocurrency exchange operator Coinbase Global (NASDAQ:) are likely to enjoy increased buying activity in the week ahead as the buzz in the crypto market continues ahead of the launch of the first exchange-traded fund (ETF).
The Securities and Exchange Commission is widely expected to approve the futures-based Bitcoin ETF, called the ProShares Bitcoin Strategy ETF. It will trade under the ticker 'BITO' and could make its debut as soon as Monday.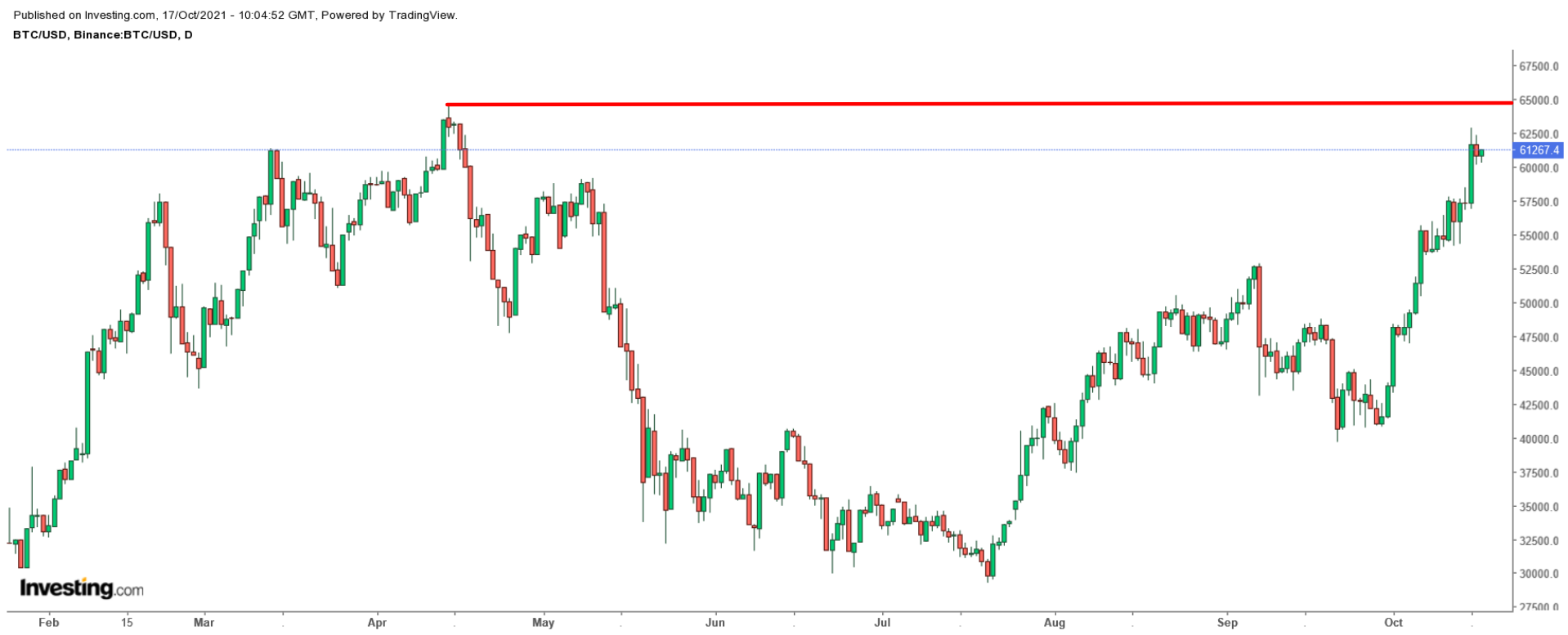 Bitcoin surged above $62,000 for the first time in six months on Saturday, closing in on all-time highs around $65,000 touched in mid-April. Several other popular cryptocurrencies, such as , , , and —which can all be bought and sold on Coinbase—also experienced heightened volatility in weekend trade.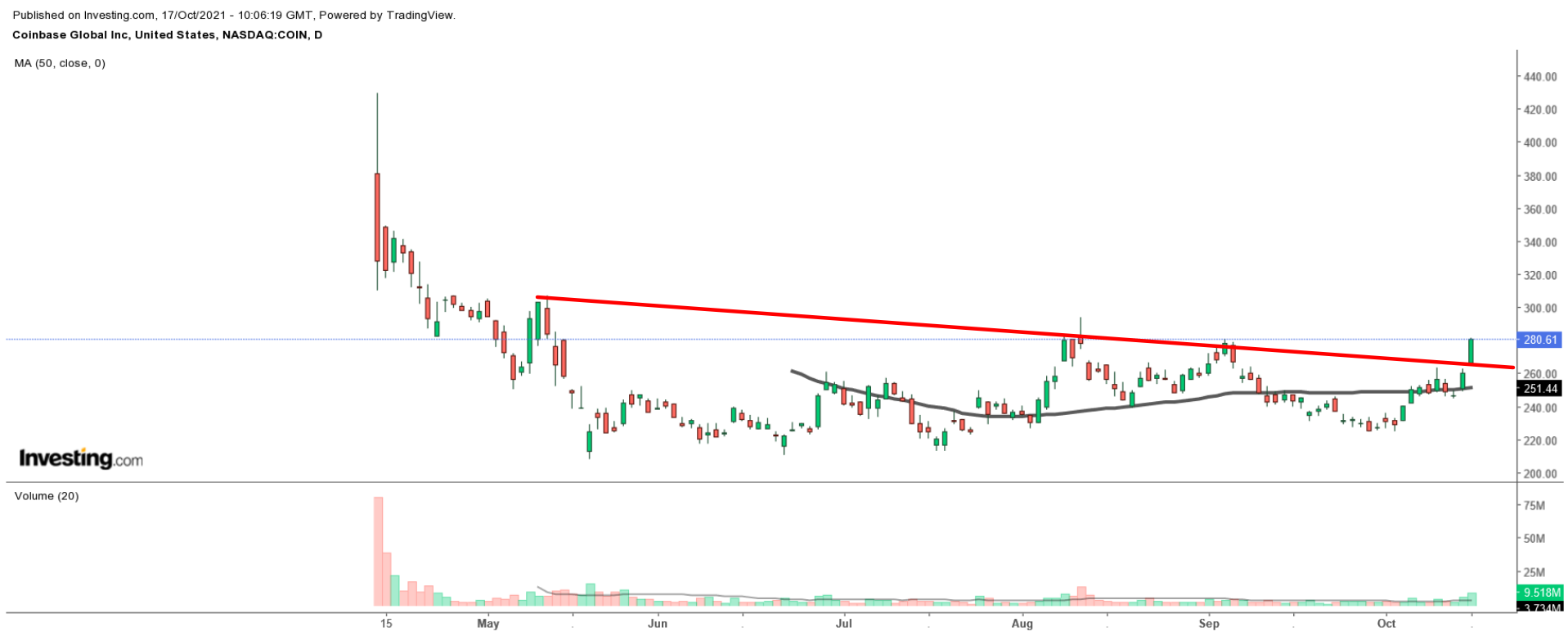 COIN shares rallied to $281.72 on Friday, their best level since Aug. 11, before closing at $280.61. At current levels, the cryptocurrency exchange platform operator has a market cap of $59.2 billion. After rallying to an all-time high of $428.93 in its first day of trade on Apr. 14, COIN stock then came under heavy selling pressure, losing nearly half of its value in the subsequent three months. It has since shown signs of bottoming, with shares climbing roughly 15% in the last four weeks.
Coinbase is scheduled to report financial results for the third time as a public company after U.S. markets close on Tuesday, Nov. 9. Consensus expectations call for the crypto exchange pioneer to post Q3 earnings of $1.41 per share on revenue of $1.51 billion.
Stock To Dump: AT&T
AT&T (NYSE:) shares—which recently fell to an 11-year low—are expected to suffer another volatile week as investors brace for disappointing financial results from America's largest telecommunications company. The Dallas, Texas-based communications behemoth is scheduled to report third-quarter numbers before the U.S. market open on Thursday, Oct. 21.
Consensus estimates call for earnings per share (EPS) of $0.78, up 2.6% from EPS of $0.76 in the year-ago period. Revenue, meanwhile, is expected to dip 1.6% year-over-year to $41.67 billion.
Perhaps of greater importance, investors will monitor growth in AT&T's postpaid phone net additions, a key metric in the wireless industry which evaluates the difference between the number of new phone subscriptions added during the quarter and the number of subscriptions that were terminated.
Additionally, AT&T's outlook for the rest of the year will also be in focus as it deals with the negative impact of growing competitiveness in the wireless industry, which has cable TV firms, such as Comcast (NASDAQ:) and Charter Communications (NASDAQ:), gaining market share. That has prompted telecom majors, like AT&T, Verizon (NYSE:), and T-Mobile (NASDAQ:), to rely more heavily on promotions to lure in new customers in recent quarters.
Market players will also be keen to hear what steps the company plans to take to reduce its high debt load amid worries it could cut its dividend.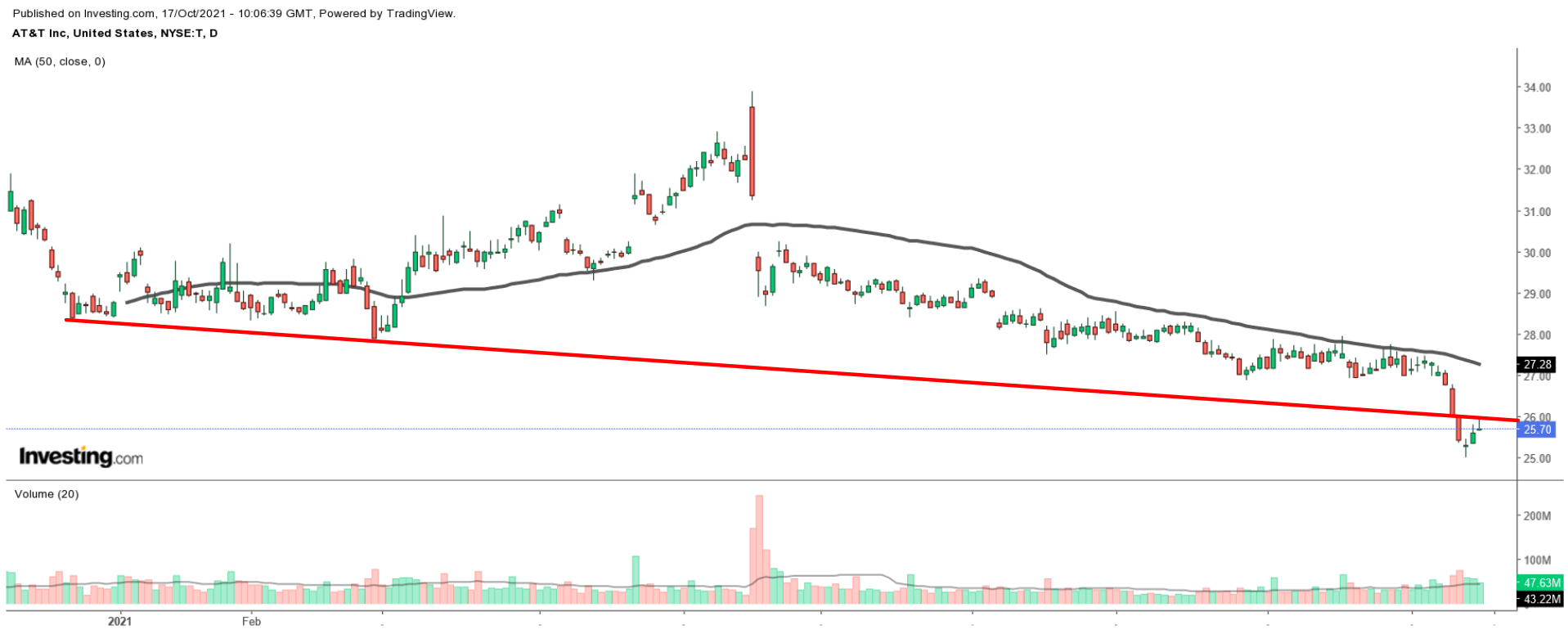 T stock—which recently dropped to its lowest level since July 2010—closed Friday's session at $25.70, earning the telecom and media giant a valuation of $183.5 billion.
Despite its highly attractive dividend yield, currently a rich 8.12%, AT&T has seen its shares lag the broader market this year, falling 10.6% in 2021, as investors turned pessimistic on the company amid a major overhaul of its media and telecommunications portfolio.
AT&T—which earlier this year agreed to merge its WarnerMedia business with Discovery (NASDAQ:)—recently spun off its DirecTV video business into a new company in a deal with private equity firm TPG Capital.

>